Election Banner is an amazing print product that provides high visibility and helps political candidates take their campaign to the next level. They work as an effective marketing tool to draw attention to your campaign and spread awareness about aspiring politicians. A well designed and printed Voting Banner can do wonders by reminding your electorate about who you are, what your name is, and what your mission is if you are elected.
Inspire people to vote for you with these affordable and quick to print products. A Custom Election Banner ensures your message is read loud and clear and sends a strong message to voters, reminding them of your name and slogan every step of the way. Get the word out about your political movements and the key issues you wish to tackle and gather more supporters.
Shine a spotlight on your campaign with an Election Banner
Campaign Banners can make or break your marketing strategy and it all depends on how well you can portray your message using this medium. Picking the right design, size, and Election Banner Images can help you go a long way and impart the information you want to showcase to people.
We've put together some easy tips to keep in mind when designing the banner for your next political campaign that can help create a product that perfectly embodies your message and represents you. Learn How To Design A Campaign Banner with some easy steps that will help in highlighting key elements!
Choose the Voting Banner type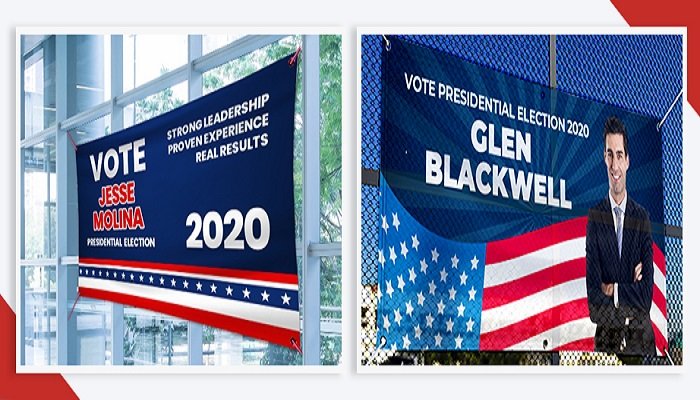 When it comes to banners, there are several types for you to choose from, making them a versatile print product that is perfect for use at any event or spot. There are two types of banners available in the market – ones that come with a stand and don't need additional tools to prop them up, and banners that can be tied or hung on walls, fences, and other surfaces using grommets and ropes.
Think about where your banner will be used – indoors or outdoors? Then decide which banner type suits your needs the most. Print Fabric Banners, Mesh Banners, and Vinyl Banners that can be easily hung at a height and are very durable. Banners such as X-Banner Stands, Retractable Banners, Table Top Banners, Step and Repeat Banners that come with an aluminum sturdy base and frame to be set up.
The right size
Picking the right size for your Campaign Banners is imperative so that they can be seen clearly wherever you place them. The basic rule is – the bigger the banner, the more clearly it will be seen from a distance. So depending on its use and area of installation, you can get a good idea about the size.
12" x 24" – Best seen by people passing by near the banner. Also a good size for indoor use.
24" x 38" – Great for events and outdoor use.
32" x 48" – Clearly seen by people driving by in traffic areas.
48" x 96" – Used as a billboard to get noticed and be seen from a distance.
Attractive colors
Color can be tricky to choose as it helps in highlighting your message. A background with a contrasting color of text makes it easier to be seen, but you don't want to add too many and make it complex. For the USA elections, red, white, and blue are most commonly used but you can make something unique as well. Just remember to not overload it with too many colorful graphics or use pastels as those can be difficult to read from afar.
Font style and size
The United States Sign Council Foundation has found that there is a correlation between the letter height and the distance from which readers can see the banner. You can see a 1" font size from 30' away when driving whereas 50' away when standing. Keeping this mind, make a Personalized Voting Banner that is easily read from a distance.
The font you use also matters as cursive or overly decorative fonts is difficult to understand while a simpler bold one can be easily read in passing. Good examples of easy to read fonts are Verdana, Helvetica, PT Sans, Georgia, and Quicksand.
Content is key
When it comes to content for Campaign Banners Printing, less is always more. You don't want to overcrowd the banner and must only add relevant and important details such as the name of the politician, the position you are running for, a simple slogan, or the area you are running in the election for. Adding too much text can make people miss out on what the real intention of the banner is. Try to aim for 60% negative space and 40% copy for a good balance.
Images that stand out
Election Banner Images should not be too busy as landscapes and complex elements can overshadow your message. Keep it simple with the politician's face, just a flag, or small elements like stars and 'vote now' artwork that can be placed without making the whole design look crammed. Keep the elements and flourishes used clean and symmetrical to match your overall theme and design.
Need help with the design for your Campaign Banners?
If you're still not sure how to design the best Election Banner for your campaign, PrintMagic provides stellar Design Services! Reach out to us and we will help you design and print your marketing and promotional products that are a big necessity for any political campaign.