With the elections in sight, politicians running for any kind of office need to step up and campaign fiercely to get noticed. How will people know they should vote for you if you don't get your message out? A big part of amping up your campaign strategy is sending out informative flyers that spread awareness among your electorate and help them understand your intentions as a politician if you are elected. Political Campaign Flyers provide a wide reach and are successfully impart your message without burning a hole in your pocket!
Great to network and make new connections, Flyers Political Campaign can be sent through mail or handed out directly to people at rallies, stores, on the road, or even door to door. Their versatility and flexibility are what make them a big part of any marketing strategy and are a make or break factor for politicians running in the elections.
Flyers Design for an election campaign
The first step to designing the perfect flyer is to find a design that resonates with your campaign message. Campaign offices have several tasks to go through each day, which is why finding an Election Campaign Flyer Template is a very simple and helpful way of creating one. No need to take the time to learn how to make a design for the flyer – simply download, customize, and send it to print.
Well-created Flyers Design For Election Campaign can greatly help your case and help you reach out to people with the right message. Whether you want to simply state you are running for elections and need a 'vote for me' Political Campaign Flyer Template, or are looking to display your core principles and let people know why to vote for you, the right Political Campaign Flyers can do wonders!
Political Campaign Flyers Printing Specs
There are various types of Political Campaign Flyers that you can get printed for an added special effect. Apart from Standard Flyers, you can choose from Pearl Metallic Flyers, Silk Flyers, and Foil Flyers to add flair to your print products and make them even more attractive. There are also several sizes and paper stock options to help you create Political Campaign Flyers that are fully customizable. Depending on the budget you are allocating to your campaign marking, pick from Spot UV coating, Silk lamination, Matte, and Aqueous coating, and other such superior options to increase the durability and longevity of the product.
Another advantage of getting Custom Flyers Political Campaign done is that you can print them in brilliant-looking full-color on one or both sides and personalize them to match any style or theme. You can also pick a flat or a folded flyer depending on your requirements. With so many options to choose from, creating Political Campaign Flyers Designs will be a hit!
Political Election Campaign Flyer Template for all candidates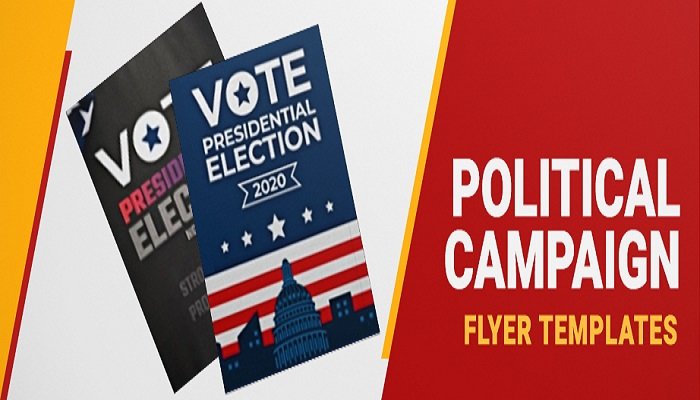 We at PrintMagic want to show support to all candidates and politicians running in the elections and have created a set of Political Campaign Flyer Templates that are quick to customize with your images and text. With straightforward designs as well as more complex ones, you have the freedom to focus just on your message and leave the printing to us!
Add the necessary elements to the Flyers Design For Election Campaign to make it effective, as an attractive and exceptionally designed flyer can make a bigger impact. Printing a standard and dull flyer can make people lose interest in your campaign, so make sure to put your best foot forward and ensure the design represents your campaign perfectly.
Political Campaign Flyer Templates
Appeal to voters with our set of Election Campaign Flyer Templates that look appealing, eye-catching, and can be personalized to print flyers that work in enticing voters. Here are some brilliant Political Campaign Flyer Templates for you to take inspiration from!
PrintMagic also provides printing and design services if you need further help with creating the perfect Political Campaign Flyers and running a winning campaign. Choose from the right customization options, kind of flyer type, and fast shipping options to get your flyers delivered to your doorstep!