Custom Print Labels for any use
Labels are sometimes the first point of contact between the company and the customer, which is why it is necessary to make your labels stand out and be more attractive. Many times customers make judgments about your brand or products depending on the packaging and labels used. So if you want to be taken seriously, you need to invest in a branding and marketing strategy that includes Printing Labels that are high-quality and attractive.
Order Labels to use on bottles, jars, food items, packages, different products, internal branding and much more. Printing informative and eye-catching labels for products is a great way to show your clients the amount of attention and care you put into packaging each product you sell.
Print Labels Online to help prospects and customers understand your product and decide whether it is for them. Printing Labels help add additional product information and allow you space to professionally present your company and what sets you apart. Order Labels to showcase your company's designing abilities and highlight your assets by printing full-color custom labels in several sizes and paper stocks to create a label that looks great, is functional and represents the product.
Order Labels Online At Print Magic
No matter what you need to Order Labels for, Print Magic has 25 kinds of labels as well as customization options to pick from. Create labels that are ideal for your product, brand and promotional activities. Whether you need different shapes like square, circle, oval, rectangle or even a custom shape, Print Magic's fade-resistant printing, several paper stocks, and coating options are the perfect choice to make your logo or text stand out. With a fast turnaround time and small to large printing quantities, you can Buy Labels that fit your budget.
Print Labels Online that can be used for all purposes from Shipping and Mailing Labels, Name Labels, Retail Branding Labels, Waterproof Labels to Food Labels, Beverage Labels, Price Label, Jar Labels, and Health & Beauty Labels. Print Magic delivers precisely cut stickers that come with a strong adhesive, are easy to peel and stick securely.
Several size and shape options or upload custom design
Silk, gloss or no lamination
5 paper stock options - Bright Silver Metallic - 2 mil, Texture Eggshell Felt - 70 lb. 6.3 mil, Semi-Gloss - 55 lb. 3.2 mil, White BOPP - 2.3 mil, Clear BOPP - 2.3 mil
Pick unwind direction
Buy Labels For All Purposes
General FAQ's for Custom Label printing
What does the Unwind Direction refer to?
Unwind Direction refers to the orientation of the labels as they come off the roll. See the reference image.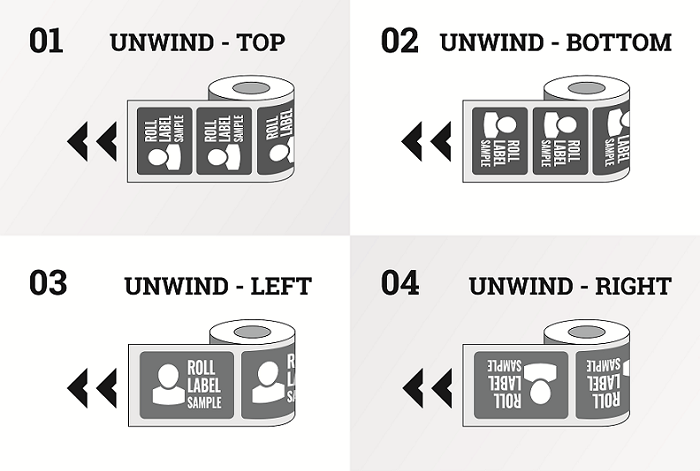 Is Unwind Direction important?
Yes, only if the labels are applied on the products with the use of machine so that the products and the labels are aligned correctly. As Unwind direction helps indicate which part label will be at the leading edge when the roll is unwound. But if the labels are applied manually, Unwind Direction is not that important.