Creating a custom t-shirt has always been a go-to for people who want to add a personal touch to events. When it comes to political campaigning, Election T-shirts have become a big part of marketing your campaign to the masses in a personalized and cool way. While printing flyers, brochures, door hangers, and other such campaign marketing printing is necessary, Vote T-shirts are a great way to stand out and represent your campaign without being pushy. Wear them yourself, give them to core team members, or distribute among your supporters to garner attention and spread the word about you!
A well-designed custom Election T-shirt is an impactful way to display your message, slogan, or name and helps you gain support from the electorate, as well as get you noticed everywhere you go without having to hand out print material and ask for people's attention. Whether you are running for Governor, City Council, Senator, President, or any other local election campaign, using promotional material as part of your marketing strategy can help you go a long way.
Why use Vote T-shirt for election campaigns?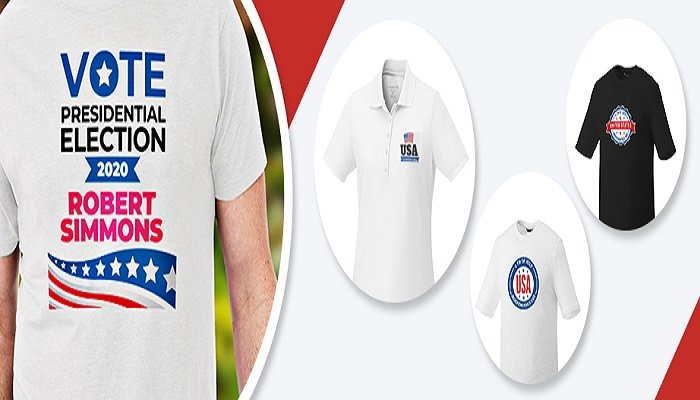 While there are various ways through which you can advertise your campaign, wearing a T-shirt provides you with great visibility. Whether you are meeting people in person, giving an interview on air, or taking pictures, your custom Vote Shirts always show front and center.
Quick and easy to print
They are one of the easiest promotional products to personalize, as the design should be straightforward and not complex and are also quick and easy to print on time. Moreover, they are a very cost-effective way to reach the masses without having to spend hundreds of dollars.
Several options
Election T-shirt Printing is very easy to customize, not just in terms of its design, but also the kind of t-shirt you choose. There are several types of t-shirts in the market that are perfect for printing on. You can pick from different sleeve lengths – short sleeve, full sleeve, without the sleeve, depending on the season or use. Cotton fabric is most popularly used for printing due to its lightweight, and breathable material. There is a wide range of sizes available from S to 2XL to comfortably fit everyone.
You can pick a t-shirt of almost any color depending on the color scheme of your design, allowing for many customizable possibilities! You even have a choice when it comes to the process used for printing the Vote Shirts – pick from direct printing, dye sublimation, and embroidery. The options of using t-shirts as a part of your promotional campaign strategy are endless and very effective.
Distribute to supporters
Wearing a Vote T-shirt turns the wearer into a 'walking advertisement' for your campaign and gets you a lot more attention due to its durable and long-lasting nature. Not just by wearing yourself, but by giving these t-shirts to your supporters as a freebie you can get more people to support you. Anyone wearing your Election T-shirt on the street, at work, or casually, works as a mobile advertisement opportunity for your cause!
Raise funds
Another way to use Vote Shirts is by selling them to people who are keen to support you. This comes as a great help when you want to raise funds for your campaign as these are promotional products that are handy and useful while being very profitable for you.
Instant recognition
An added advantage of printing Vote T-shirts is that your campaign can get instant recognition. When walking around in a parade, your campaign members and supporters can be easily recognized and distinguished from the crowd. Anyone who sees them will instantly know who to talk to about your election campaign and will recognize the relevant people with the logo, message, or name associated with you.
Take inspiration from Print Magic's Election T-shirt templates
There is no quicker and easier way to garner attention for your election campaign than Vote T-shirt printing. It is fun, cost-effective, and completely customizable depending on your budget and style. Boost awareness and loyalty by printing a winning promotional product that helps you stand out from your competition.
We at PrintMagic have created some attractive templates for election Vote T-shirts that can be used as inspiration. We also provide design and print services in a number of t-shirt styles, allowing you to get your products created and shipped on time!