Business Cards are a necessity for every type of business and are also a well-known way of professionally introducing yourself in the corporate world. With everyone making use of these promotional products, don't you think it's time to upgrade and enhance your design to attract more attention? Your aim should be to get custom unique Business Cards printed that will stand apart when kept in a pile with others. Add special elements, creative colors, and unique shapes to create a product that perfectly defines you and your brand!
Creative Business Cards can be printed in many different styles such as die-cut shapes, specialty stock, standard, and premium finishes. By using such unique elements, you can easily create Cool Business Card Designs that efficiently work for your brand, products, and services. Since you are using a Business Card as an identifier for yourself or your company, people many times judge your creativity and presence in the industry by the quality of products that you hand out. A well designed and printed product that feels smooth and represents everything that your client may need, is more likely to show customers that you are serious about your brand. A dull and badly printed one, on the other hand, will reflect poorly on your business.
Here are some of the most Creative Business Card Ideas to take inspiration from when printing your next product!
Unique Business Cards With Bold Typography
Create an emphasis on the details and text by printing your Business Cards with bold typography. Highlight your text by using a bold and big font and make sure the message stands out. Sometimes, the text makes a much bigger impact than images and design can, which is why it is a great element to incorporate with Creative Business Cards. For a great design, choose a bold or cursive font, interesting layout, and typographical hierarchy.
Creative Business Cards With A Minimal Design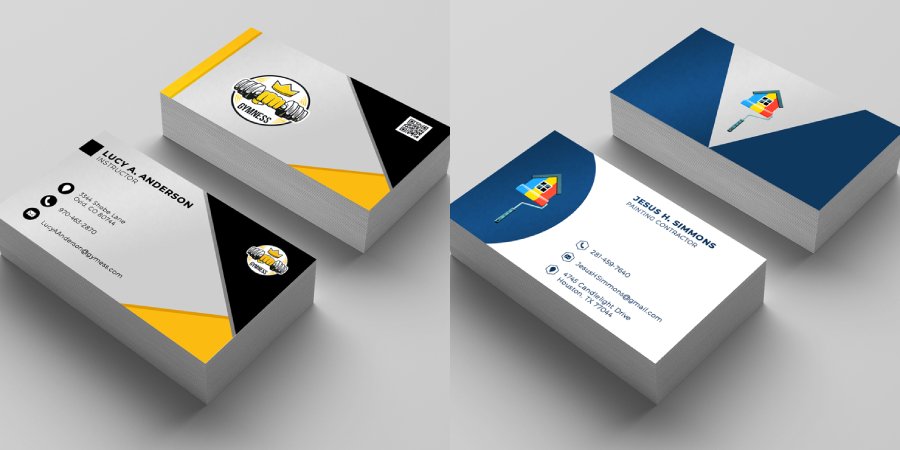 Traditionally, Standard Business Cards are known to have an ivory color and come in rectangular shapes. But with all the new design elements and superior printing techniques available today, you can easily create more enhanced versions of a standard and minimal Business Card. A minimal design is still considered a safe and effective choice since making Business Cards with too many elements can make them look complex and that takes away from the main purpose of the product. Print creative Business Card designs with a minimal design that lets the light shine on your brand! Choose from Slim Business Cards, Rounded Corner Business Cards, Two Rounded Corner Business Cards, Square Business Cards, and more.
Long-Lasting And Creative Business Card Designs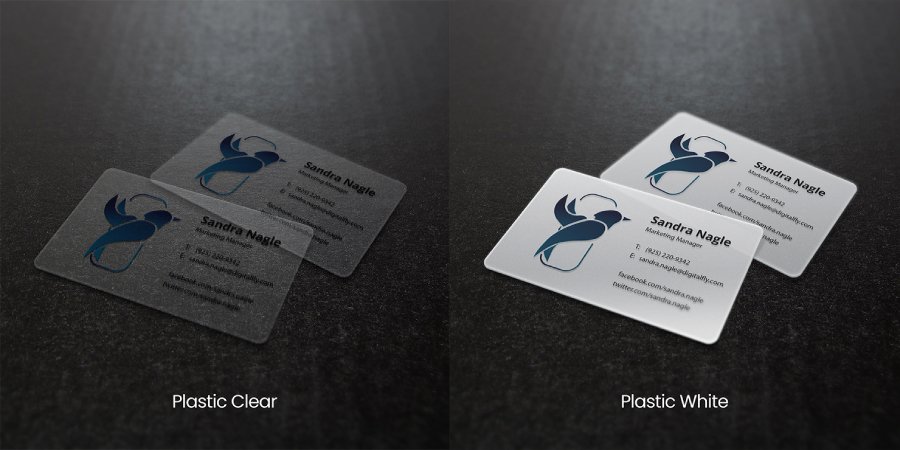 Print Business Cards that last for a long time and allow clients to keep your contact details at hand. Choose Business Card Stickers, Plastic Business Cards, or Business Card Magnets that are both a great way of creating products that are useful as well as informational. Magnetic Business Cards can be stuck on the fridge or any metal surface while a plastic Business Card can double as a bookmark, always keeping your brand and name insight. Stickers, on the other hand, can be used just about anywhere to market your company.
Creative Business Card Ideas In Different Shapes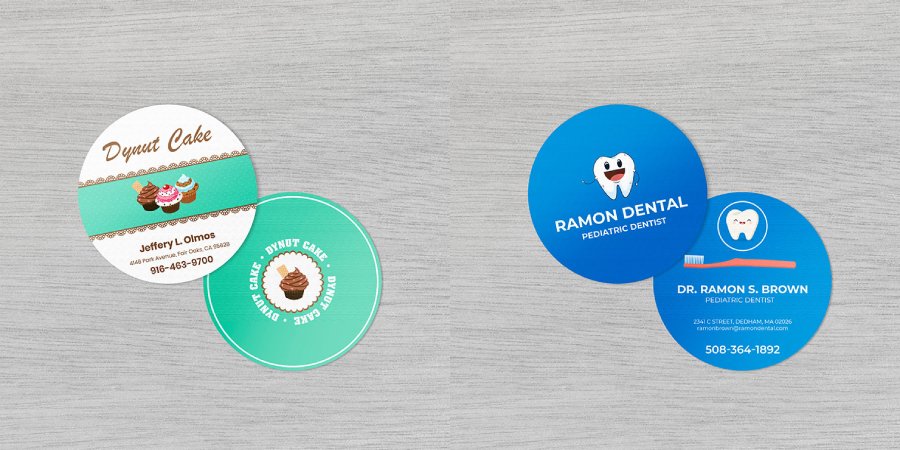 While the norm is to print standard rectangle-shaped Business Cards, you can now also get them made in different shapes. Get Circle Business Card, Oval Business Card, Leaf Business Card, Square Rounded Corner Business Card, and more for a shape that stands out. You can also pick a custom die-cut shape as per your design, which looks refreshing and modern!
Cool Business Card Designs With A Raised Surface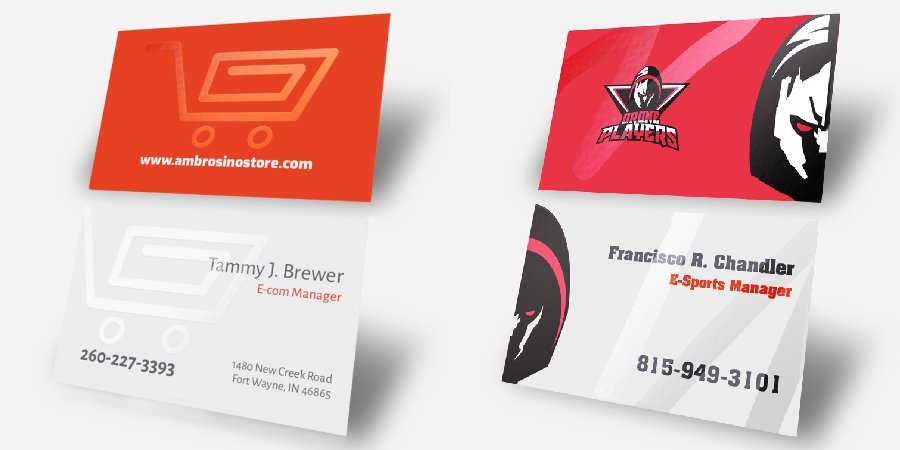 Add a cool tactile effect to your unique Business Card that features a three dimensional surface with raised printing. This can be done with Raised Spot UV Business Cards and Raised Foil Business Cards. This helps in easily highlighting any specific part of the design and leaves the card receiver with a Business Card that is truly memorable!
Image-Based Creative Business Card Designs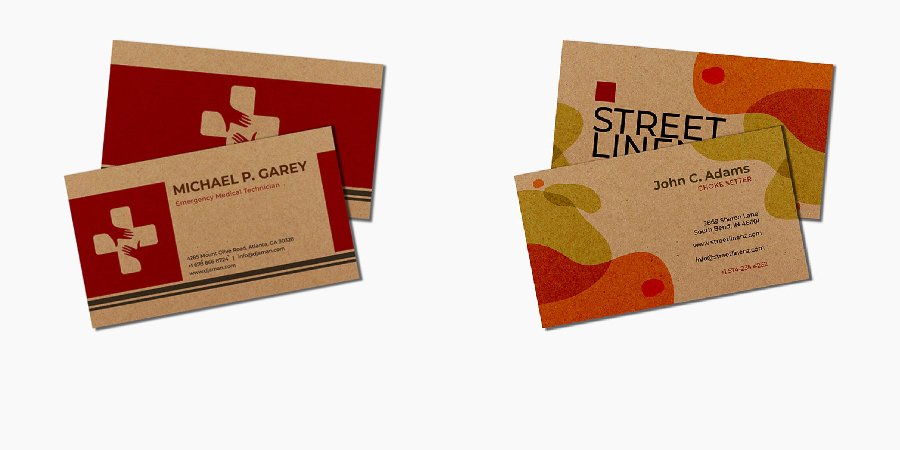 Many times, images speak louder than words and there are certain custom creative Business Card ideas that look better with pictures than artwork and text. Print a more visually appealing product with a fun and attractive design or image that represents exactly what your brand is all about. Make sure to use images that are high resolution and finalize the design file to be a vector for best printing practices.
Creative Business Card Ideas With Metallic Elements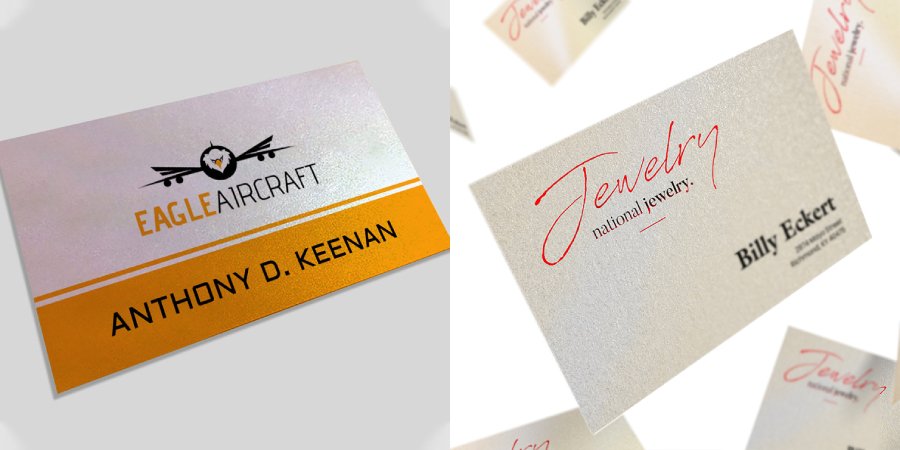 Metallic colors are the best to catch attention and make sure your design gets noticed among other Business Cards. Metallic doesn't always have to mean blingy and shiny, but can instead be used in moderation to add special elements to your print products. Create amazing looking creative Business Card designs that use Foil as a way to highlight certain parts of your overall artwork. Use Foil to enhance the logo or put more focus on the company name. Choose from types such as Foil Business Cards, Raised Foil Business Cards, Ultra Thick Painted Edge Business Cards, and Pearl Metallic Business Cards.
Cool Business Card Designs With Specialty Paper Stock
Create amazing looking Business Cards with paper stock as the main hero. With several beautiful and elegant options available for printing, your products will perfectly reflect your design and details. Print products with amazing paper such as Silk Business Cards, Velvet Soft Touch Business Cards, Pearl Metallic Business Cards, and Brown Kraft Business Cards.
If you're looking to create fun and creative Business Cards, then PrintMagic has a number of styles to offer you. We are a leading printing company that offers several customization options to help you create cool Business Card designs. With over 24 types of Business Cards available for printing, each one perfect for representing your design.