Things to keep in mind when printing a foil business card
Size and Shape: We offer printing in the standard sizes in rectangle and square shapes.
We print Full-color printing available either on one side or on both sides.
Paper Stock Options to choose from:
Choosing the right paper stock will not only impress your clients but also help you make a great first impression. We have two paper stock options to choose from:
Premium Cardstock - 16 pt. C2S: This paper stock is of 16pt thickness and has a high gloss finish helping the images to pop up making it perfect for printing photos. It is also water-resistant.
Standard Uncoated - 14 pt.: This paper stock is of 14pt thickness and slightly lighter than the Standard Cardstock - 14 pt. C2S paper stock and gives you a textured and natural paper feel. This paper stock allows you to write with pens, pencils, and markers.
Rounded Corners: Print Magic offers the option of some or all rounded corners to help you create the kind of Rounded Corner Business Cards look you are going for. You will get these options whether you choose to print a rectangle shape or square shape Business Card. You can choose from two rounded corner or all rounded corners with the rounding circumference 1/4" (0.250") 0r 1/8" (0.125")
Protection: A silk lamination is added to your business cards which makes them water and tear-resistant.
Coating: Spot UV coating is added to highlight certain elements in your design
Some tips to make the most out of your foil business cards:
Contrast: Pick a background color that lets your foil design stand out.
Font Size: To make the elements in your design are readable, use 8pt size or higher.
Margins: All business cards are generally printed on large sheets and while cutting them into desired sizes, there can be slight variation.
Remember that Foil Business Cards need "Mask files" to be set up properly and our Design Experts can help setup and ensure Perfect Prints. Our team can also give good recommendations on which are the most important Foil areas of Business Cards, so don't forget to reach out for tips! These are required as below:
Foil Printing on the Front:
Front Side Artwork
Front Foil Mask Artwork
Foil Printing on Both Sides:
Front Side Artwork
Front Foil Mask Artwork
Back Side Artwork
Back Foil Mask Artwork
To be sure that your designs don't get cut during the process, ensure that all your designs within the bleed. Use our design services will help you create your foil business cards as per your requirement.
FAQs:
What is Foil Printing?
Foil printing is the process of applying a thin coat of metallic or pigmented foil to paper stock using a combination of heat, and pressure. It is used to create a special looking printed piece on your artwork. Foil printing is the best way to give your products a high-end and customized look with effects such as elegant metallics, ultra-glossy colors, and high-tech effects.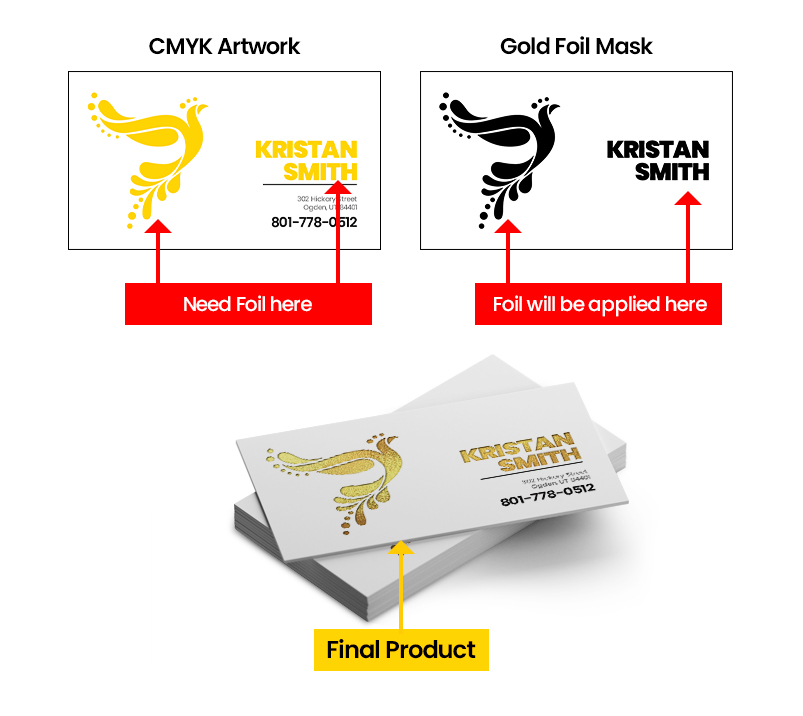 What is a Foil Mask File?
When you order your printed product with special finishes such as foil stamping or raised foil, please prepare, and submit an extra artwork mask file for Foil finish representation along with your CMYK artwork. This extra artwork file is called Foil Mask File.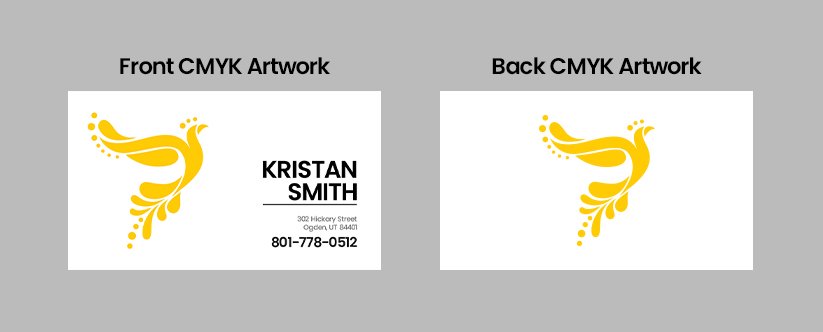 Preparing Mask file: Create a black and white pdf file with black color values of K = 100% (C=0 M=0 Y=0 K=100). Black areas represent where you want the foil or raised foil finish to be applied and white means no finish will be applied.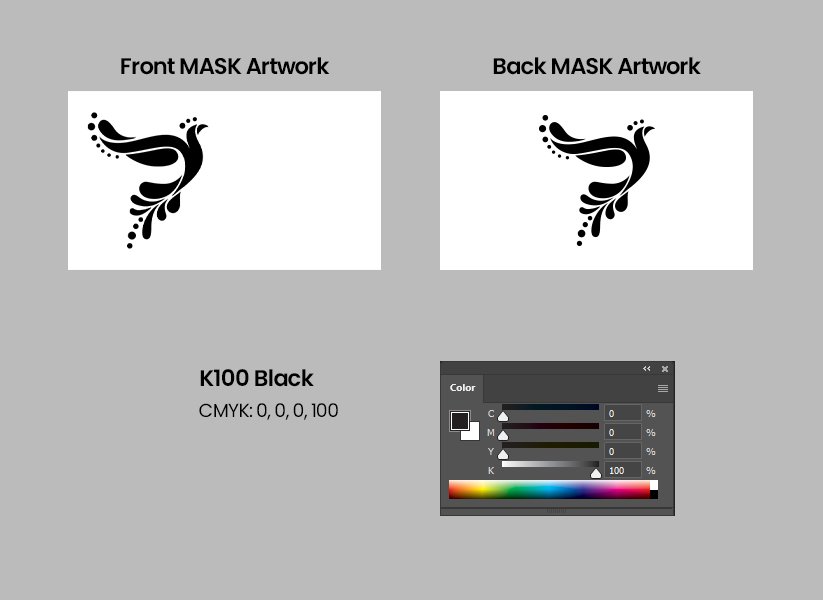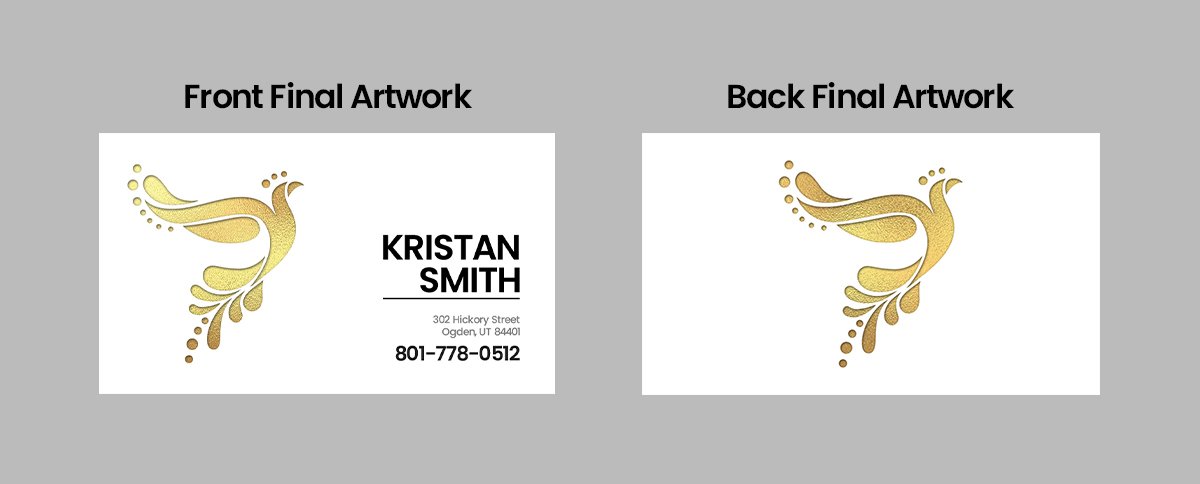 What services do you offer in design services?
When you select design services for any of the products especially business cards. When we received your requirements:
We design the business card basis your requirement
Once the design is ready, we share it with you for feedback
If you have selected the basic package, we share with you one design option and 3 free revisions if you need any changes in the elements of the design. If you need more options, you can choose from Gold and Platinum packages.
Post your feedback, a print-ready high resolution file along with the mock up showing the finish choices you have selected. Once it is good to go, you can go ahead with printing the high-resolution file. The high resolution files shared can be used multiple times for printing for re-order.