Apart from a camera, one of the topmost needs for photographers is customized USB Drives. They require lots of space to store the images and videos they take, and that too in a portable format. Whether you need to show clients your previous work, present them with pictures and videos of their events, or simply require flash drive photo storage to carry your data with you on the go, custom USB Drives for photographers are one of the easiest ways to do so.
While these customized USB Drives are extremely utilitarian for photographers and videographers of all kinds, they also make a really great marketing tool since they can be customized. Well printed and personalized products create a memorable keepsake, and bulk USB Drives with logo are also cost-effective and affordable to print. They help create brand awareness and promote your business to the forefront.
Here are the Best Customized USB Drives for photographers that can help you impress clients and create an impact with your brand!
Bamboo Flash Drive
Use a beautiful wooden flash drive that looks elegant and perfect to give your clients. These Bamboo Flash Drives look minimal and have a cylindrical shape that is sleek. Print a custom logo or name on the front or back and use them personally or professionally. These beautiful looking customized USB Drives are the perfect way to deliver your final product for weddings. You can print the bride and groom's name and wedding date to create a custom product they will always remember you by.
The Bamboo Flash Drive is available in 8 GB size.
Executive Flash Drive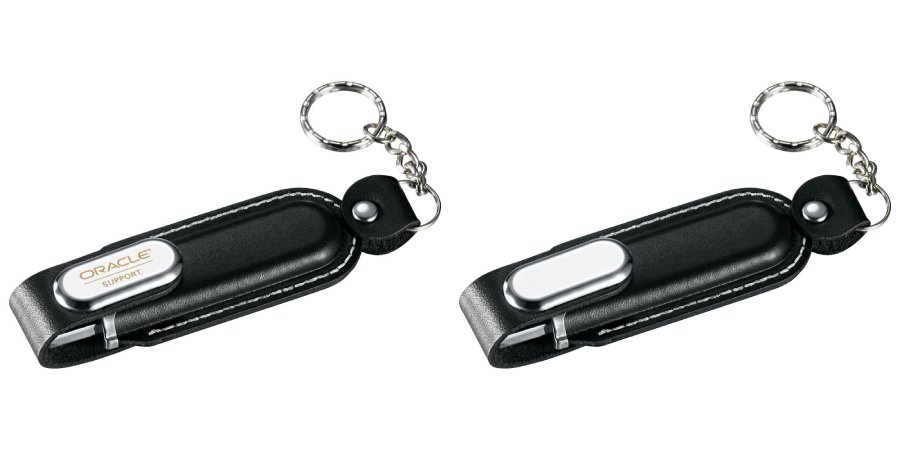 With a bold looking leather covering, Executive Flash Drives are a great choice for photographers who want a convenient way of storing their data. These custom USB Drives for photographers are made with the best quality materials, making them sturdy, long-lasting, and durable. As they stay inside the leather covering, the drive is always protected and doesn't come in harm's way. With a keychain ring attached, you can always have it on hand and never forget it when you leave the house with your keys!
The Executive Flash Drive is available in 1 GB, 2 GB, 4 GB, and 8 GB variants.
Glide Flash Drive
A big problem with USB Drives is that they tend to break when traveling with them. Due to their small size and delicate nature, the metal part of the drive that attaches to the computer can get bent and damaged when kept loose in a bag. This is why a Glide Flash Drive is one of the best ones to use! It has a cool feature where the metal hub can 'glide' back into the housing of the drive, allowing it to stay protected when not in use.
The Glide Flash Drive is available in 4 GB size.
Key Flash Drive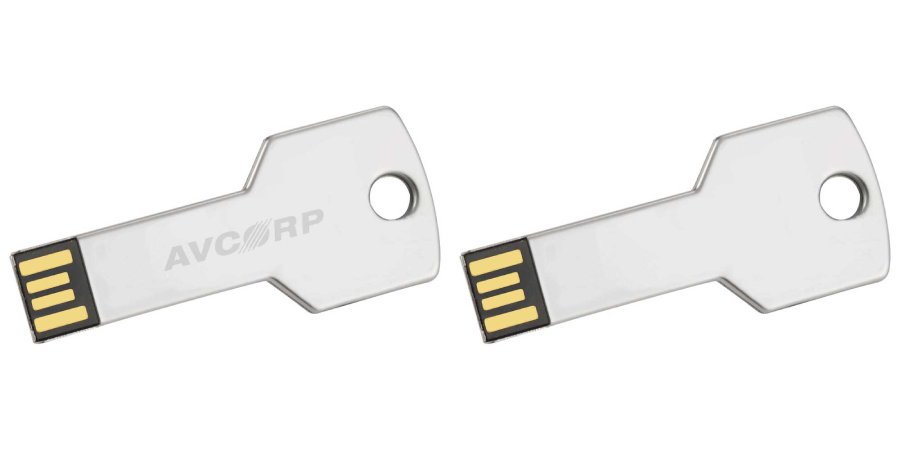 Tired of using the same old rectangular USB Drives? Choose these Key Flash Drives that feature a fun and unique shape and make spectacular customized USB Drives! Whether you want to use them for client presentations or personal use, these are sure to impress anyone who sees them. The thin and sleek design makes them easy to carry, and a hole at the top lets you attach them to your key chain as well.
The Key Flash Drive is available in 1 GB, 2 GB, 4 GB, and 8 GB variants.
MFI Certified Flash Drive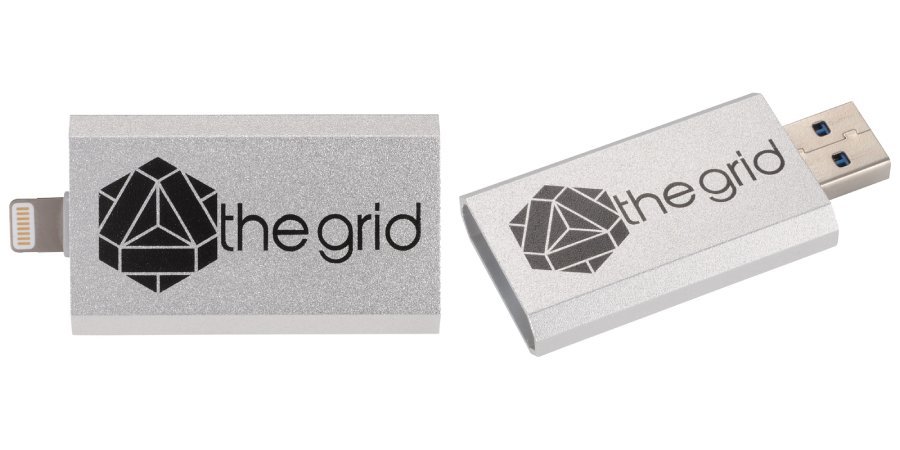 The MFI Certified Flash Drive offers huge storage in a portable and sleek format. Use them for personal flash drive photo storage or to display your work professionally. They have a beautiful silver color and come with a dual purpose. One side has a standard USB plug while the other has an MFI Certified Lightning plug. This dual function lets you quickly transfer data between your smartphone devices and your laptop and computer, as well as store it from either source! This also reduces the headache of carrying extra converters, wires, and more to do the needful.
The MFI Certified Flash Drive is available in 32 GB size.
Slim Credit Card Flash Drive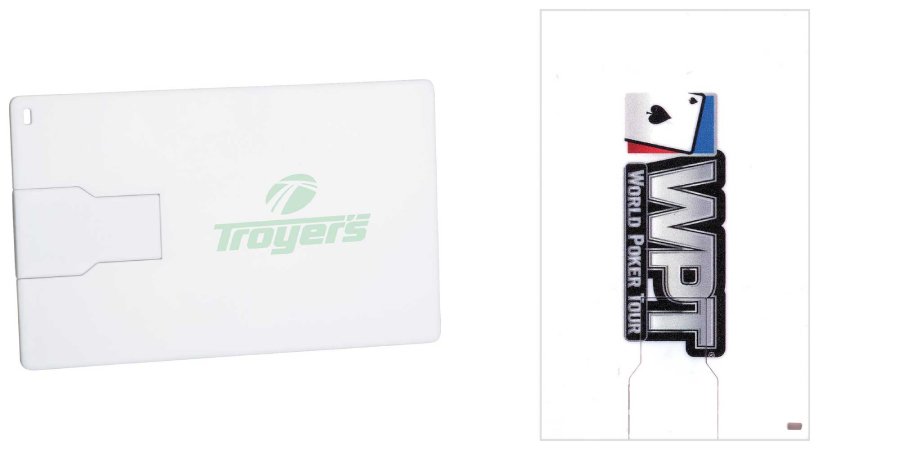 Need something that is super easy to carry and doesn't require a lot of space? Use Slim Credit Card Flash Drives that provide all the functions of a normal USB Drive along with the portability of a credit card! These custom USB Drives for photographers are so slim that you can carry them in your wallet like you would any other bank credit or debit card. These make an impressive product to give your clients as well, due to their easy to store and cost-effective nature.
The Slim Credit Card Flash Drive is available in 2 GB, 4 GB, and 8 GB variants.
Type C Flash Drive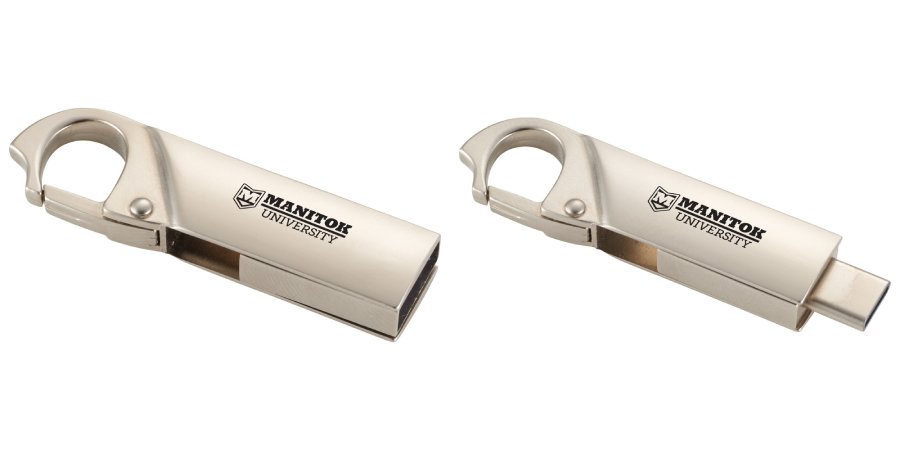 With the changing technology that laptops and computers need, the normal USB port is becoming obsolete. If you are commonly facing these issues, it may be time to switch to a USB Drive that works with Type C ports. Get custom printed Type C Flash Drives and make sure you have the compatible hardware to connect to every device to display your work anywhere you go!
The Type C Flash Drive is available in 16 GB size.
Velocity Flash Drive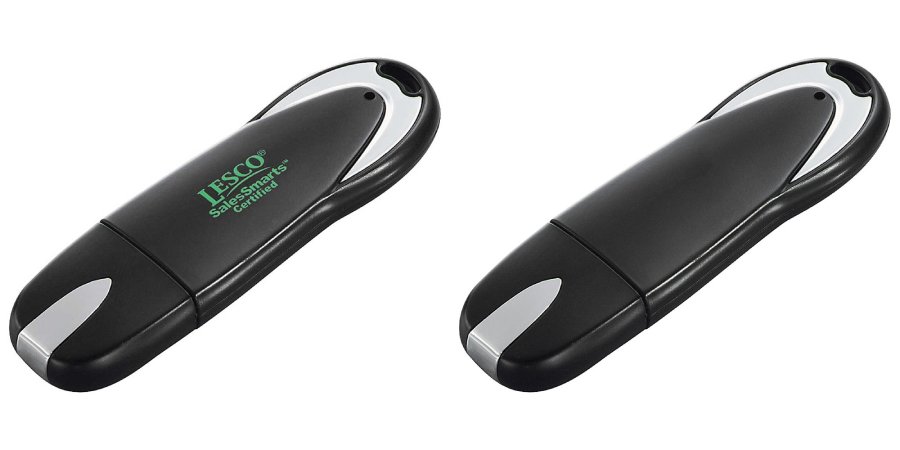 These are professional-looking customized USB Drives that have a classic styling with added chrome accents. The Velocity Flash Drive is RoHS compliant and features quick data transfer between devices. Make sure you are always working at full speed and aren't getting pulled back by glitchy USB Drives that stop working suddenly.
The Velocity Flash Drive is available in 1 GB, 2 GB, 4 GB, and 8 GB variants.
PrintMagic offers several promotional products for photographers, including customized USB Drives. Our superior printing processes deliver products that look amazing and represent your brand and message perfectly. No matter what kind of custom flash drive photo storage you want to print, we have a wide range of options to personalize your products and print bulk USB Drives with logo, allowing you to showcase products that look as amazing as your photographs!