If you are looking for a cost-effective and efficient way of reaching new prospects, look no further than Postcards! Postcard printing is one of the best ways to promote your products and services to people who fit your target audience. No matter the industry you are in, there are several Postcard examples that can help you create a print product that is critical to the success of any marketing campaign.
Since Postcards are a visual representation of your brand, choose Postcard samples that best suit your company's needs. They are an essential product that helps build stronger bonds, increases engagement, and improves the company's conversation rate.
Here is a list of the 10 best Postcard Examples for small businesses that work as marketing Postcard examples and can help you get some inspiration!
Business Postcard Ideas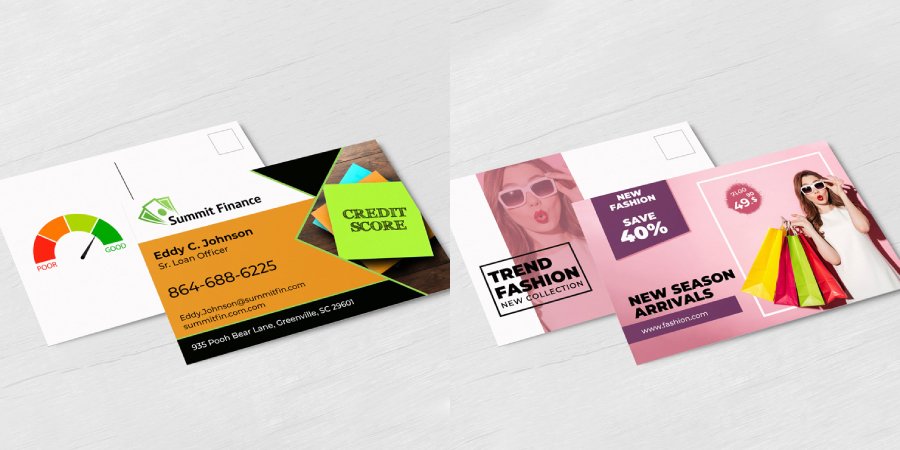 Using Postcards to promote your business is a great way to get the word out about your brand, products, and services. Choose business Postcard ideas that stand out and offer well-printed marketing materials that are perfect for announcing new product launches, sales, and deals going on in-store or online, as well as in giving tear-off coupons to your customers. These cost-effective marketing materials are perfect for any kind of small or big business establishments and work as a great way to send products that have a completing Call To Action or CTA.
Real Estate Postcard Ideas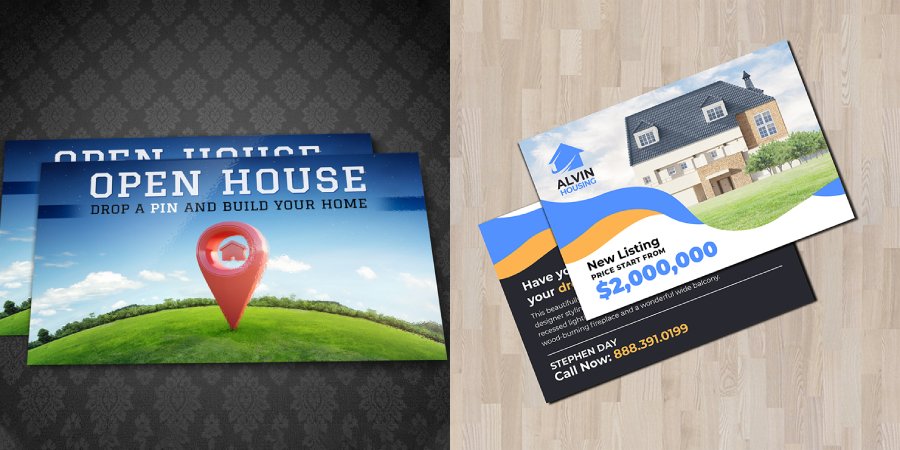 Real Estate Postcards can be designed depending on the message you want to send customers and prospects. They make a great way to keep in touch with valued customers as well as maintain constant communication with them. Send out specific Postcards for different areas and create targeted marketing strategies. Postcard examples for Real Estate include sending information about houses that have been just sold, ones that are up for sales, open house invitations, comparative market analysis, and more. Postcards make a value-adding product that can be sent to all clients.
Postcard Examples For Home Improvement Contractors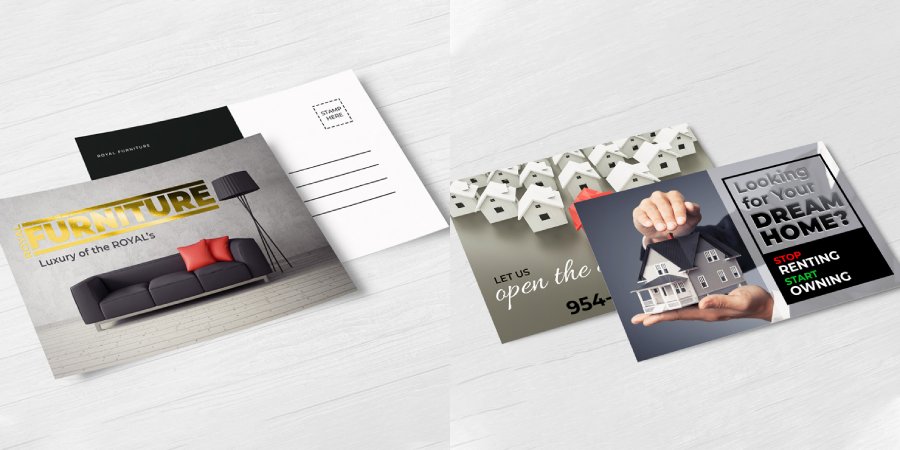 Display your services for home improvement and let people in the area know about what you have to offer. With these affordable advertising Postcards ideas, you have the choice to display all your services in a systematic and easy to read format. Design Postcards that are simple to understand and deliver your contact information and message for prospects to use when needed. Reach your target audience at home with Postcard ideas that help you promote your business, whether you are a plumber, gardener, landscaper, pool clearer, contractor, or more.
Retail store Business Postcard Ideas
Looking for Business Postcard Ideas that can help you promote your retail store? Most customers look forward to receiving coupons and deals in the mail from their favorite retailers. This is why printing Postcards with tear-off coupons and information about upcoming sales and offers are popular for any kind of business that deals with the sales of goods. Whether you are in fashion, technology, accessories, home decor, or other industry, choose an attractive design for your retail store Postcard examples and give your customers a reason to shop from you!
Marketing Postcard Examples For Cafes And Eateries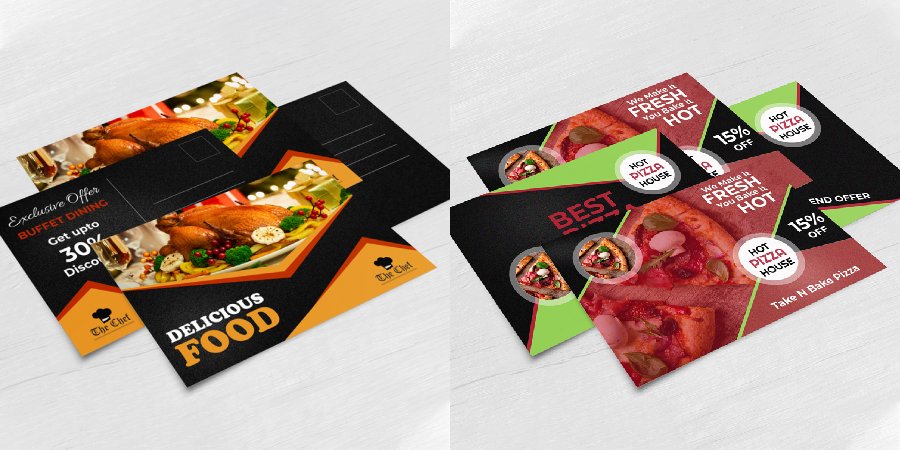 Postcards are the perfect marketing material to use when you're opening up a new cafe, eatery, or restaurant. If people in the neighborhood don't know about your food and drinks establishment, they wouldn't be able to visit! Print these affordable products with an enticing design that shows off your ambiance and best dishes available. You can also add offers and deals for first-time visitors to entice more people into coming for your opening and thereafter.
Law Firm Postcard Examples
Well established Law Firms and even ones that are just starting out, all require print marketing products such as Postcards to help them get the word out about the legal services they offer. Whether you are a firm with several lawyers or a single practicing lawyer who wants to promote himself, there are many kinds of Law Firm Postcard Samples that can help with promotional activities. Use these print products to create a narrative that shows how beneficial your services can be and which areas you can help them with. Strong design and images can help enhance your Postcard and create one that portrays an impactful message.
Examples Of Postcards For Veterinary Clinics
Expand your customer base by targeting more prospects with Postcard printing. Use amazing looking Postcard Examples that can help display your services, office hours, appointment reminders, and more. Whether you want to attract new customers or keep in touch with old ones, Postcards are an easy to mail item that can be sent through Every Door Direct Mailing for a specific route or Direct Mailing for targeting certain neighborhoods. Choose marketing Postcard examples that highlight your veterinary services for animals of all kinds!
Event Planner Postcard Samples
Inform people about your stellar event planning services with advertising Postcard ideas that help represent the kind of events you are a pro at putting together. Display beautiful themes and decorations and use these print products as a way to invite people to your showcases and events. A well-designed Postcard will also show your aesthetic sense as well as display an example of your creativity.
Travel and Tourism Postcard Ideas
Whether you are a resort, travel agency, or guide, sending out Postcards to inform people about your new packages and deals is a great way to promote your business. These promotional products are a great way of showing tour packages, historical destinations, prices, and more. Good examples of Postcards include ones that deliver a clear and exciting message with iconic images and a strong tagline!
Barbershops and Hair Salon Advertising Postcard Ideas
Promote your hair salon, spa, nail decor, or barbershop with well-printed Postcards that can be mailed around the neighborhood. Great Postcard examples include sending ones that have an incentive for customers to come to you. Whether you are a new business or an old one, using Postcards as a way to market your products and services will help you grow your customer base!
PrintMagic offers amazing printing services for Postcards of every kind. No matter what kind of industry your business is in, we offer several customization options that can help depict your message and brand in the perfect way. Choose from Postcard examples such as Silk Postcards, Pearl Metallic Postcards, Brown Kraft Postcards, Raised Foil Postcards, Plastic Postcards, and much more!