Banners have a huge impact on your visibility and promotional activities while being a product that has a wide reach and affordability. Studies show that Custom Banner Ads are a great way to get more customers and increase profits as 35% of people say that they noticed a local business because of the Banner hanging outside. Statistics also show that 68% of customers have bought an item because the store's Banner or Sign caught their attention!
Using a Banner For Advertising is in demand as they are cost-effective, reusable, and low maintenance promotional products. Whether used indoors or outdoors, they are the perfect solution for displaying your brand at trade shows, conventions, and other such corporate events.
How to pick the best Banners For Marketing?
With so many options in the market today, you need to pick a Banner type that best suits your needs. The most important point to think about is where your Banner Ads will be used – indoors or outdoors. After deciding that you can pick which material will best suit your promotion and stay as good as new, depending on whether it is water-proof, wind-resistant, doesn't fade or get scratched. These factors also let you see how long-lasting your product will be and helps you make the right decision!
We've listed out the most commonly used types of Banners For Advertising and promotion. While some can be hung on surfaces using Grommets and Pole Pockets, others use stands to display the message. Read their features below and understand their characteristics to figure out which Banner Ads are best suited for you!
Banners that can be hung
Vinyl Banners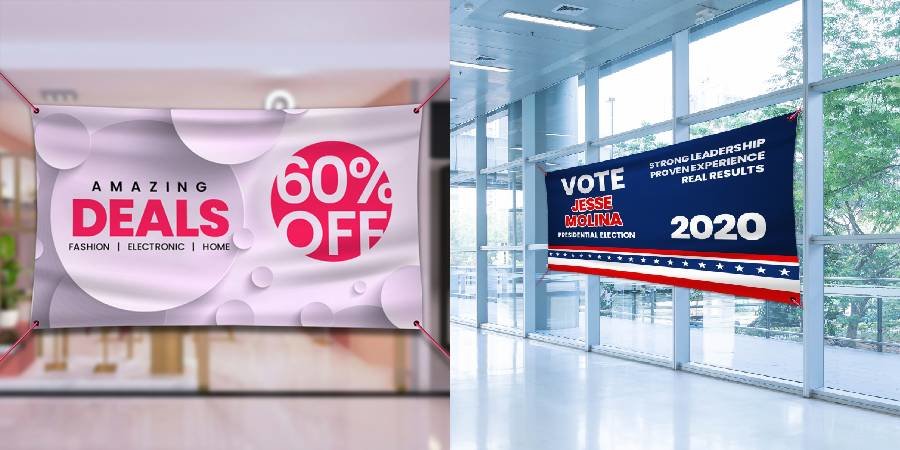 One of the most popular Banners to use, Vinyl Banners can be used indoors or outdoors. Creating large-sized Banners For Marketing is a great solution for more opportunities with a cost-effective and flexible marketing tool. The Vinyl material features a smooth and matte surface that makes it easier to read the Banners from afar. With a no glare effect, it offers high print quality as well as versatility in printing.
Vinyl Banner Ads can be reused as needed and are long-lasting as they are made to withstand hard weather conditions and be used outdoors without the threat of being damaged. Printed using inks that are UV Cured, the material is waterproof and durable.
Fabric Banners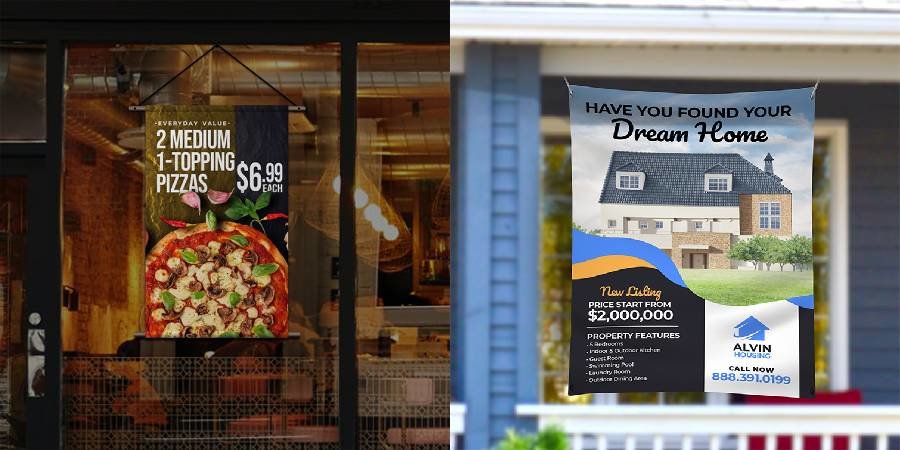 Fabric Banners are printed on 100% polyester material that is wrinkle-resistant, light-weight, and durable. The thin threads and tight weave of the material results in amazing printing quality, while the fabric itself is soft to touch. These Banners provide great visibility and readability from afar with vivid printing, high opacity, and great material quality.
With multiple display options, these Fabric Banners can be hung in front of a table, on the wall, or a stand and it will surely catch the attention of people near or far. They also add an aesthetic appeal to your indoor space, whether it is a showroom, retail store, or office.
Mesh Banners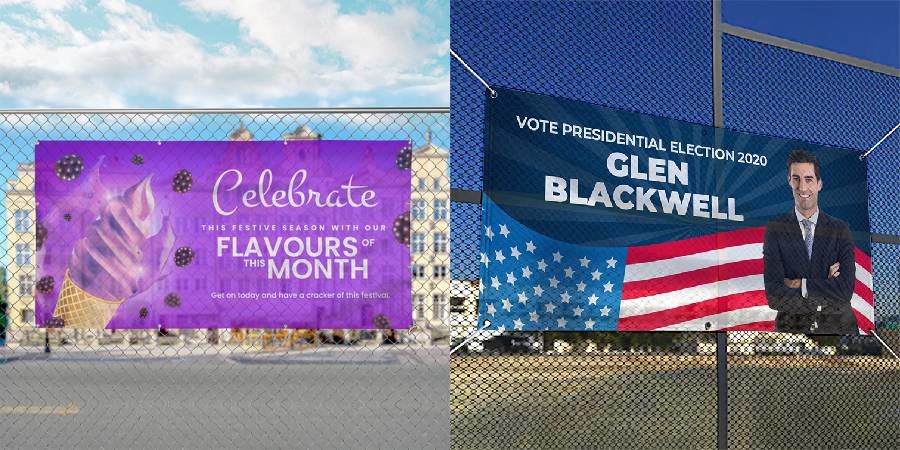 Mesh Banners are the perfect answer to outdoor Banner For Advertising as they come with extremely small holes that let the wind pass through and not harm or move the Banner. They can be easily hung on chain-linked fences outdoors and have a ratio of 70/30 where the Banner is 70% Vinyl and the rest 30% is made of tiny holes.
These holes give the Banners a more transparent and muted look, also letting a bit of light pass through. Mesh Banners can withstand every weather condition and are the perfect solution for advertising your brand outdoors!
Canvas Banners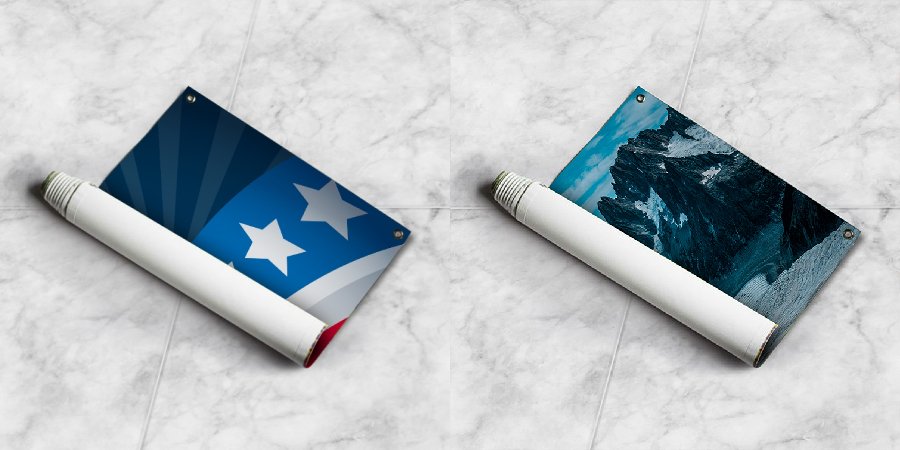 Canvas Banners come with full-color, fade-resistant CMYK printing on one side to display your design with colors that pop! You can get them in rolled, mounted, or stretched varieties to help transform any design you like into gallery-worthy artwork!
The material is a high-quality artist canvas fabric that is sturdy and provides an amazing photo quality reproduction. The poly-cotton blend has a matte finish and is also water-resistant and durable.
Banner For Advertising with a stand
Retractable Banners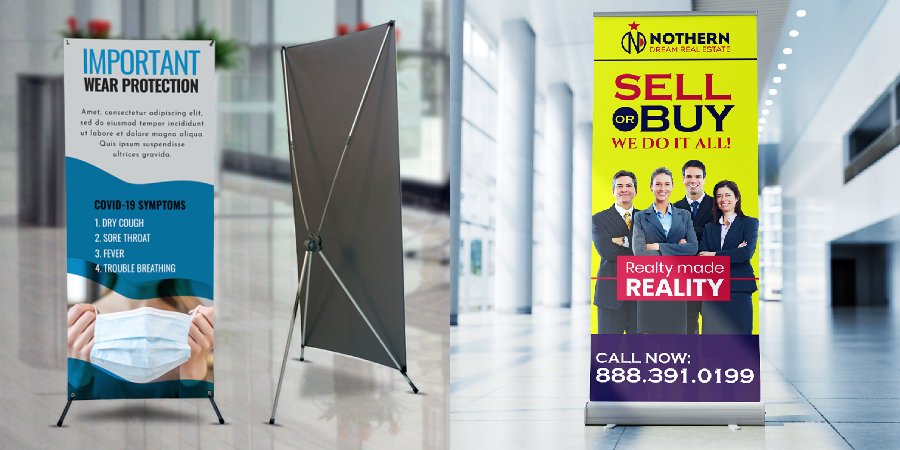 Retractable Banners are very easy to use and display Banner types that are rampantly used by businesses due to their easy to set up format. These pop-up Banners are made of Vinyl material that is sturdy and long-lasting and also comes fixed to a strong aluminum base. You can easily roll them up to display the Banner or retract them when not in use.
Mostly used as an indoor display, Retractable Banner Ads can be easily changed when needed without having to replace the base, making them cost-effective and easily reusable. The retractable feature also allows you to pack up and transport the Banners without the need for too much space!
Step And Repeat Banners
Best used as a backdrop for events to take pictures and used as a publicity backdrop, Step And Repeat Banners have a repetitive printing pattern of the brand and logos endorsing the event. This helps create more promotional opportunities and gets the brand more visibility with Banners For Marketing.
Printed using fade-resistant ink, these can be easily reused for several events with the sturdy stand they can be attached to. Featuring high-quality, vibrant colors due to the dye-sublimation process, they offer a no-glare effect, allowing the background to brightly show up in photographs. The stands are collapsible and the Banners can be cleaned, allowing you to reuse them for a long time!
Tension Fabric Banners
Tension Fabric Banners come with a wrinkle-resistant stretch fabric that stretches easily to wrap around stands and display your message neatly without any folding or moving. They are a very sought-after Banner type due to their versatility and allow you to easily integrate your graphics to create a beautifully smooth presentation.
Add a modern touch to your promotional activities with these lightweight and portable Banner Ads. The material is long-lasting and durable, and can also be washed and cleaned without the fear of ruining it. The fabric easily slips on to hardware due to its stretchy feature providing endless promotional opportunities with vivid colors and design.
X-Banners
X-Banners get their name because of how their stand looks. These stands are very lightweight, allowing you to easily transport them from one place to another without taking up to much space. Apart from the fact that they are very affordable and don't cost much to produce, these Banners For Advertising are popular because they are the only ones designed to use a Banner that has Grommets! This allows you to reuse your normal hanging Banners and turn them into Banners with stands, without having to print another one. This versatility and flexibility have made X-Banners For Marketing very popular with companies!