Printing your design on a t-shirt and using it for sales, promotions, and giveaways is a great way to create awareness about your brand or art. Whether you want to distribute free apparel at political rallies, get group t-shirts printing for company retreats, make uniforms for sports teams, or simply open up a t-shirt selling company to display your art, there are many types of shirt printing services available.
Creating a design for custom t-shirt printing can be daunting as there are several things to consider. You want to create a design that isn't just attractive on the first go but also makes personalized tee shirts that people want to wear and keep with them for a long time!
If you are wondering how to put a design on a shirt, there are several tips that can help you create, place, and print the perfect t-shirt. No matter the use, we have some amazing t-shirt design tips to offer you!
Imagine and Explore Your Design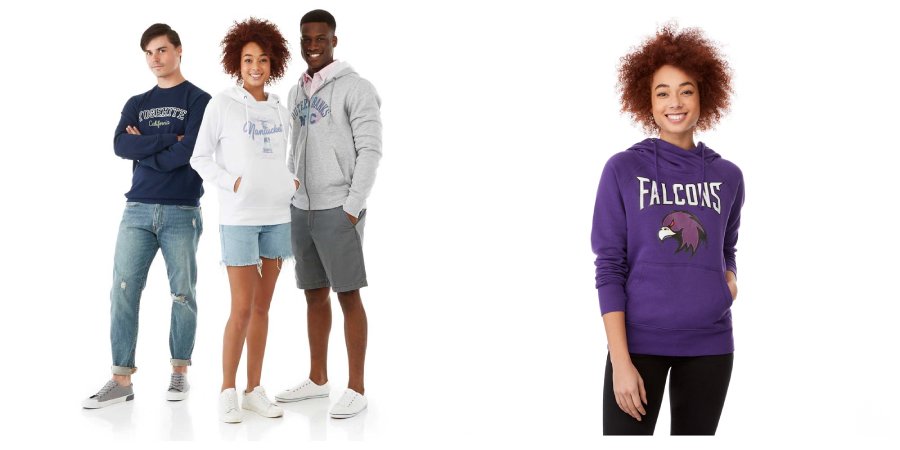 Start by understanding your audience and what you want to offer to the customers with your customized t-shirts. What is the purpose for which you are printing these t-shirts? Once you know this, it will be much easier to envision a design that suits your needs, whether you are a company, individual, or part of a political campaign. Always think of a few different variations and take a day or two to finalize the design.
Placement and Image Size for T-shirt Design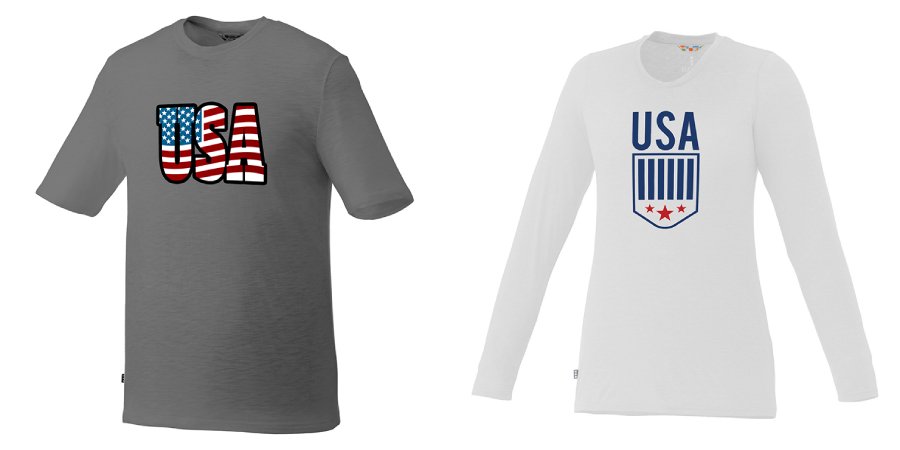 The image size for t-shirt design and its placement depends on the print and t-shirt you choose. Since you can print t-shirts in almost any size from toddlers to adults, make sure you increase or decrease the size of the overall design and place it proportionately on each. This is because the printing area on a Small (S) size t-shirt is much lesser than the printing area on a Double Extra Large (2XL) one.
Also, consider first drawing out your design on a paper and roughly keeping it on a t-shirt to see what looks best. Gauging the standard t-shirt design size will also help with placement and a better understanding of the different requirements for each kind of apparel. Another advantage of doing this is that it helps better place circular-shaped designs as they look much bigger when printed than they originally do.
Layout and Complexity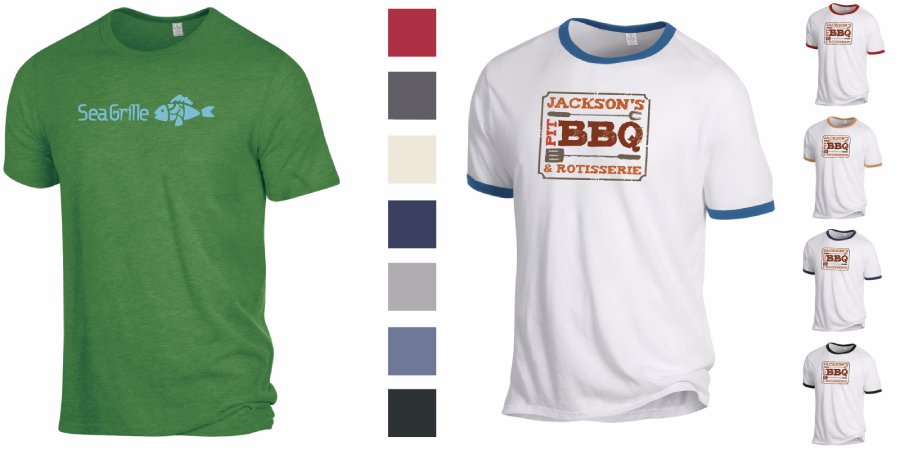 Keep the design simple and reduce complexity by keeping the number of design elements you add to a minimum. The human mind can only take in a certain number of elements at one time, thus adding any more than that can be difficult to understand instantly. Your ultimate goal should be to print a personalized tee shirt that has an absolutely striking and eye-catching design that attracts people at first sight.
People sometimes forget about the bigger picture when trying to be creative in making the t-shirt design. While working on how to put a design on a shirt, they start adding awkward angles, overlaying too many elements, and adding lots of colors, but this can backfire and end up looking confusing, making it difficult for the viewer to understand the intent of the design.
Color and contrast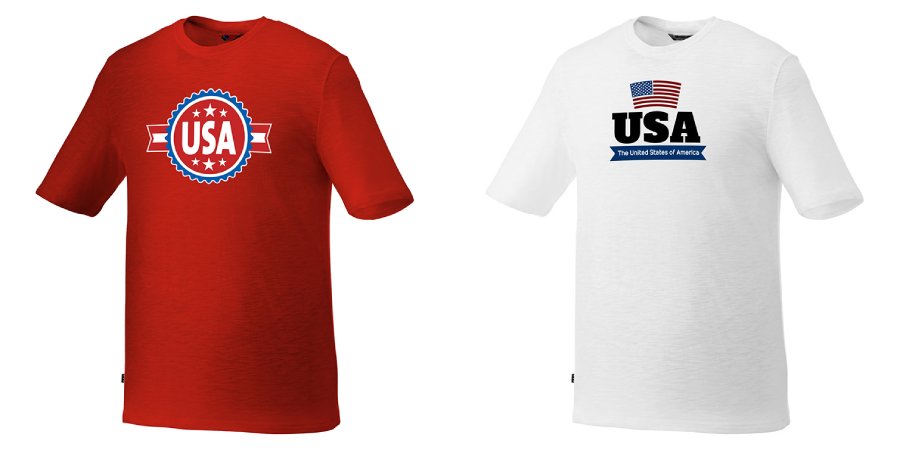 Color is one of the most important elements for apparel, whether it is the color of the design or the t-shirt itself. You have to be very careful when picking the right colors as using too many can make your overall design look ugly. You may think that adding more colors will make your custom t-shirt printing design more vivid and bright, but in fact, it leads to a very complex and confusing design. The best rule is to complete your design beautifully with as few colors as possible! This is done by using black and whites, complementary colors, tonal ranges, and more to get a full-color look.
Another important element of choosing color is setting the right contrast. The contrast is the difference between the light and dark colors in the design and how they compare to each other. This doesn't always mean a higher contrast is better – sometimes a low contrast color combination works as well, depending on your design. Just make sure whichever you choose, the design is properly visible from far or near.
Font choice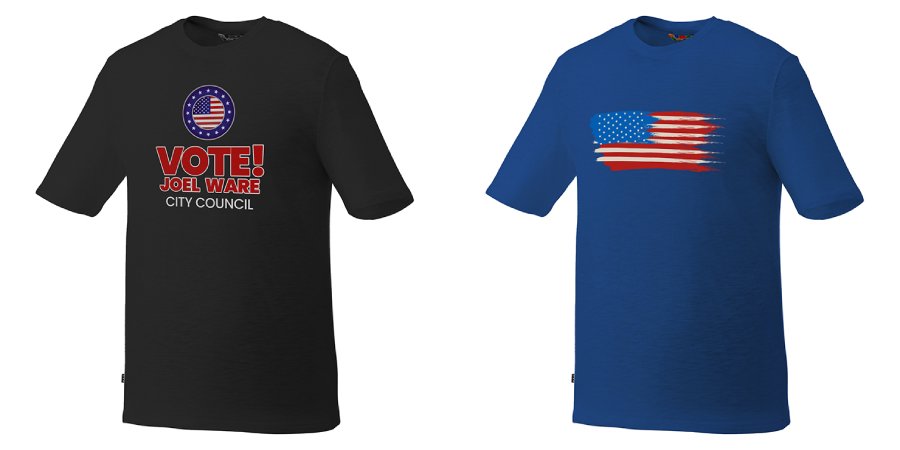 Using the right mix of fonts, sizing, and spacing can highly impact your design's typography elements. If you're worried about how to put letters on a shirt, there are some easy ways to do so. Create an aesthetically pleasing design by using a couple of different fonts that complement each other. Mixing fonts and sizes is better than using the same one all over because it helps in highlighting the different parts of the text and displays it in a more meaningful way. But make sure to not use more than three fonts at a time!
Some fonts are also associated with certain situations, such as Comic Sans is considered a fun font while Times New Roman is more formal and professional. Keep this in mind when wondering how to put letters on a shirt and only pick ones that help represent your message and design the best.
Borders and edges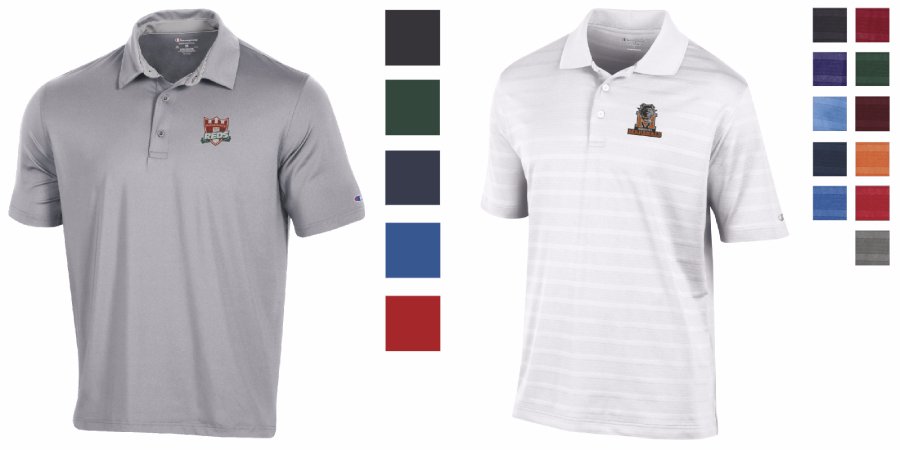 Some designs look better framed with a border while others look great printed without any background. Pick different edges and borders to add depending on what you have designed and ensured that your t-shirt print looks well thought out. Leaving your image, design, or artwork without an outline can make it look low quality and unfinished while adding an appropriate border, simple or fancy, can instantly enhance it!
Types of shirts for printing and their fabric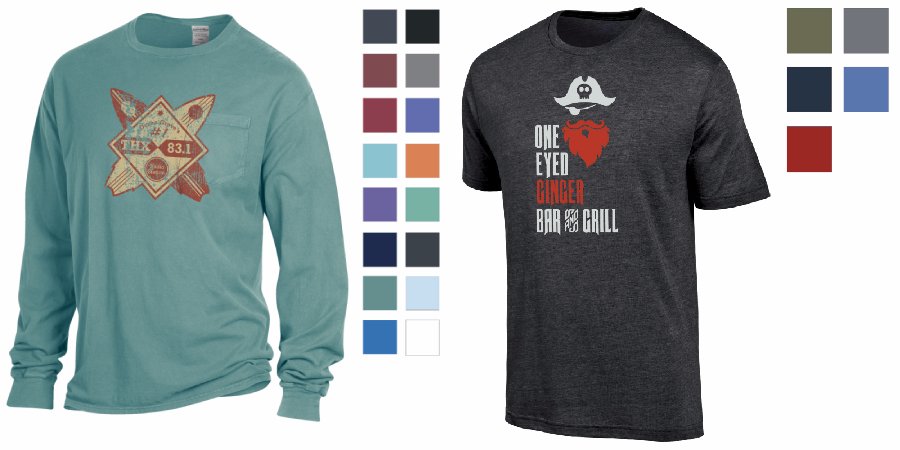 When trying to create t-shirts that will last long, you must consider the quality of the t-shirts and types of t-shirt print processes used as well. There are certain types of t-shirt fabrics that are better for printing on such as cotton that allows the print to stay for long instead of fading or get scraped off in a couple of washes.
The kind of t-shirt you pick to print on should also match the overall design and be able to enhance the look. There are also different types of t-shirt print processes to choose from, such as dye sublimation, embroidery, and more.
Find a great printing company
No amount of effort you put into the standard t-shirt design, size, and color, will matter if it is not printed well. Ultimately, it all depends on the printing quality, so make sure you pick a company that knows what they are doing and delivers full-color, vivid printing that is fade-resistant and long-lasting.
Wondering how to put a design on a shirt to sell or distribute? Order custom t-shirts online at PrintMagic as we are one such print partner that can provide stellar quality printing processes along with several customization options to ensure your custom t-shirt printing online comes out looking attractive and super wearable! We also offer many types of shirt printing services and amazing quality t-shirts to print on in several styles and sleeve lengths. Get t-shirt printing for different industries such as Automotive, Event Marketing, Political, Business, and more and ensure you get the best promotional products for your business!