Everything that a company does now revolves around how it can help with the COVID-19 pandemic or how it can alter its operations to work towards a new normal. Stickers have always been a big part of the marketing world, so why stop using them now? Print COVID-19 Stickers For Businesses that are effective, impactful, and cost-effective when presenting your COVID-19 message.
Stickers are very versatile to use, making them a perfect candidate for printing messages related to safety standards, new rules of operations, how to safely use bathrooms or other public spaces, as well as packing and mailing safety requirements.
Why print COVID-19 Stickers For Office?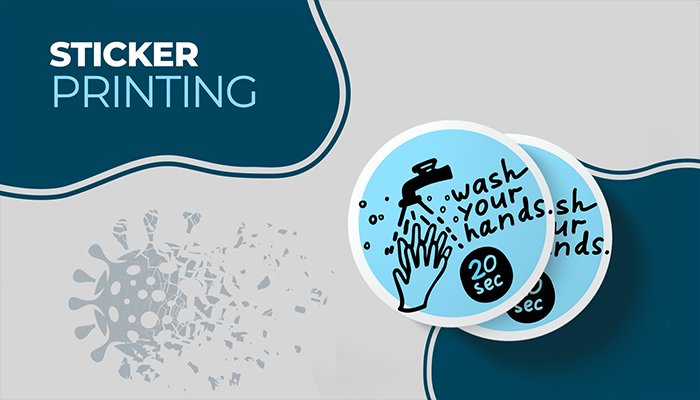 With the Coronavirus now a big part of the business world, sending out different kinds of communications to customers to display where you stand on COVID-19 is important. Sticker Printing is a great way to do so as it helps in denoting quick to understand, relevant, and mostly pictorial designs.
Easily create COVID-19 Stickers For Businesses that are integrated into the brand image and display health and safety-related information.
Used on packaging materials, takeaway boxes, delivery parcels, envelopes for mailing, and more to assure safety for the customer receiving it.
Print Custom COVID-19 Social Distancing Stickers for your office, store, or warehouse to maintain safety standards for all employees.
COVID-19 Essential Workers Stickers Printing can be helpful in implementing and maintaining new rules and regulations at work such as always wearing a mask, regularly washing hands, and more.
Stickers are also cost-effective to print and can fit every company's marketing budget.
COVID-19 Stickers For Businesses can be made fast to effectively change your promotional strategy on short notice as they are quick to print and don't require complex design aspects.
Easy to distribute by hand, send in the mail, give to customers for free at the store, or as part of their shopping bag reminding them how important it is to maintain safety standards even if stores and companies are opening up.
Once you know exactly why you need to print COVID-19 Stickers For Office, here are 6 Must-Have COVID-19 Stickers For Businesses to invest in!
Long-lasting and durable Vinyl Stickers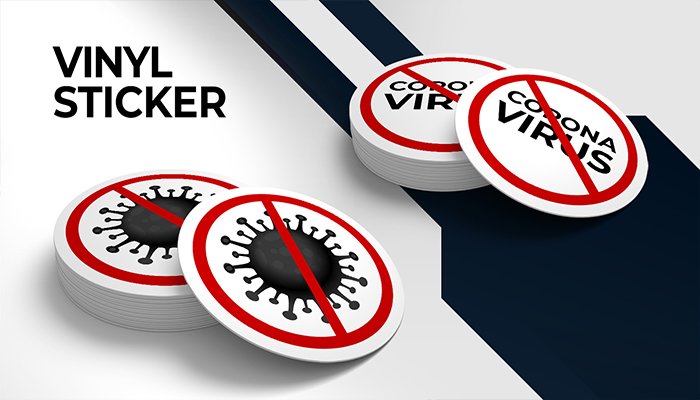 Resilient, waterproof, and long-lasting, Vinyl Stickers are the best to use when displaying important information and warning signages. Print COVID-19 Social Distancing Stickers for retail stores, grocery stores, schools, churches, and more as things start opening up. You can also get COVID-19 Essential Workers Stickers such as following every safety standard set by the company for offices and other workspaces.
Bumper Stickers for every vehicle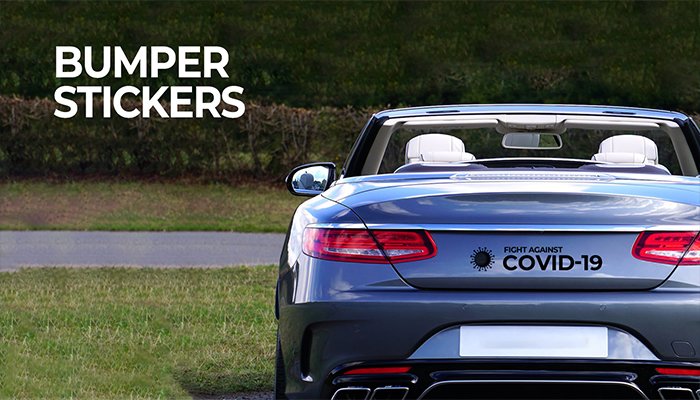 There is no better way to flaunt a message to hundreds of people every day on the road than with Bumper Stickers! Proudly show your support for safe health practices and positive quotes related to overcoming a worldwide difficulty. Supporting the right causes with relevant COVID-19 Social Distancing Stickers for vehicles can create a positive company image in the consumers' minds in the long run.
Business Cards Stickers that stand out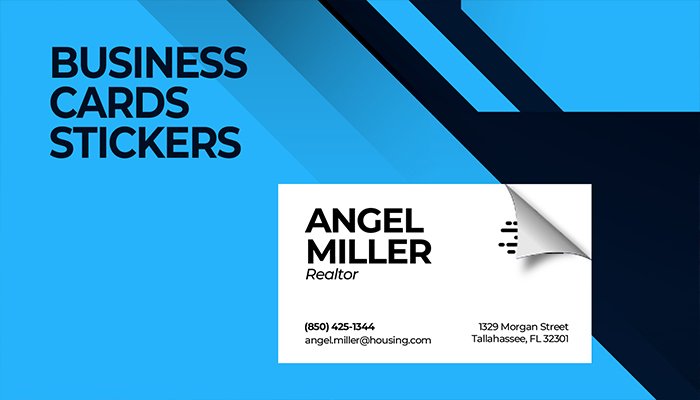 These stickers especially apply to you if you work in any kind of medical or health industry. As medical services are the need of the hour, handing out long-lasting and easy to remember Business Cards Stickers can be a great idea to stay on top of your customers' minds in the time of need.
Roll Stickers offer easy application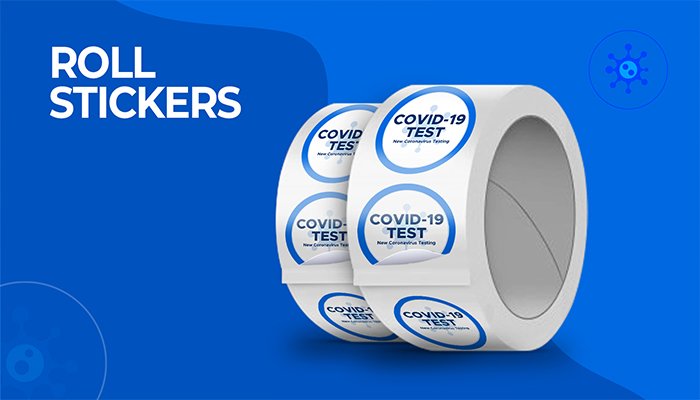 Make complete use of the power Custom COVID-19 Stickers For Businesses have by printing Roll Stickers to help your promotional strategy. On the printing front, these stickers are easier to apply since they come on a roll. They are also compatible with sticker application hand machines that make it quick for you to apply and display Coronavirus related information.
Die-Cut Stickers to print custom shapes and sizes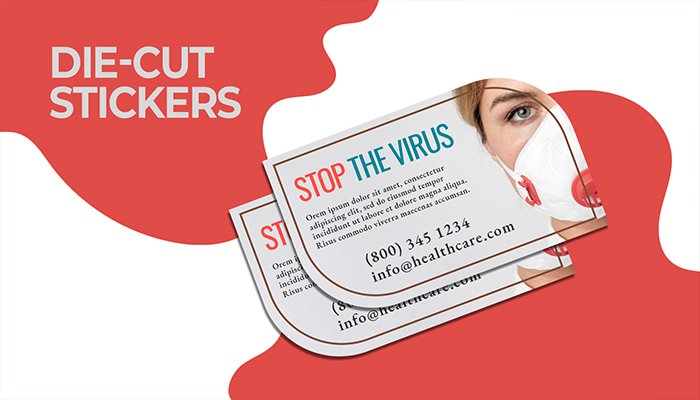 The most customizable option, Die-Cut Stickers can be printed in any size and shape you want. Whether you are printing Die-Cut Custom COVID-19 Social Distancing Stickers or COVID-19 Stickers For Office, match the shape to the focus of your design and enhance it further.
Kid's Stickers to educate them on safety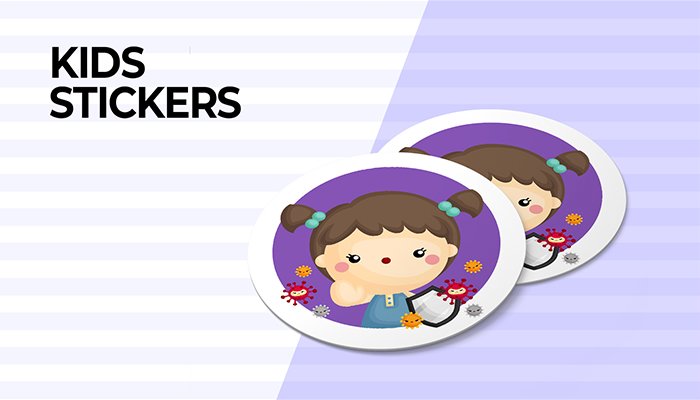 Printing colorful and fun Kids Stickers that help teach kids how to stay safe is a great way to target a new market. This marketing strategy is perfect for companies selling children's products and accessories, allowing them to create awareness about an important subject while cashing in on a new stream of customers and interests.
Promotional and Event Stickers for virtual activities
It may be a while before physical events can be organized in full power, but you can pivot your promotional strategy online and create a cool way of marketing new product launches, service offers imperative during this time, live online fundraising events, and other such virtual activities. Promotional and Event Stickers are a quick way of promoting the events and are an easy way for supporters to use these promotional products!
Order COVID-19 Stickers For Office and get any kind of printing done at PrintMagic. We offer several varieties of COVID-19 Stickers For Businesses with custom, full-color printing, and fast shipping. We provide design services as well for companies looking to create amazing promotional products.