Choose your own sticker size and create your own attractive, stick-able advertising product that is perfect for promoting your brand and spreading an indelible message! Custom Stickers are an essential part of every marketing strategy due to their fun, cost-effective, and versatile nature. They are very easy to use – simply remove them from the sheet or roll that they come on and stick them on anything you want! They are quick to apply and are self-adhesive so they don't require additional materials to be placed.
Sticker Size is one of the most important aspects of printing a custom sticker, so make sure you pick one that perfectly fits your design. Anything too small or too large can look off centre and fail to impress customers. Send a positive and attractive messaging for your brand with the right sized Stickers. Here's an article that talks about it.
Here are 10 popular Stickers Sizes that can be printed for any business.
1) Multipurpose Sticker Size – 3" x 3"
A 3" x 3" Sticker Size can be used for just about any purpose and can be printed with square-shaped corners or rounded shaped corners. This 3" x 3" Sticker Size is great for printing custom designs, collectible artwork, brand logos, as well as photo Stickers with colourful graphics.
2) Standard Sticker Size – 2" x 3.5"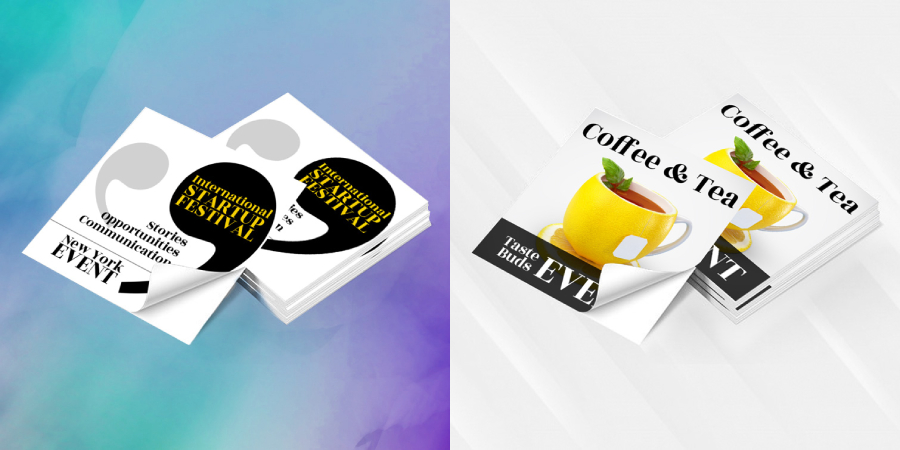 These rectangles shaped 2" x 3.5" Standard Sticker Sizes are popularly used as Business Card Stickers that are an invaluable tool for companies. They can be stuck on anything when handing out products, documents, and such and let you easily personalize what you are sending your clients and prospects with contact details. This also allows your information to stay stuck in place with the material, instead of sending a loose business card that can get lost.
3) Square Sticker Size – 2" x 2"
The 2" x 2" Sticker Size is extremely flexible for custom printing. They let you create small size square Stickers perfect to use on a number of items and are an inexpensive size to print. You can easily distribute them to prospects and customers to create brand awareness as well as give them something they can use to support you!
4) Custom Sticker Size – 1.1" x 2.75"
Print 1.1" x 2.75" Custom Size Stickers that are perfect to use as Return Address Labels. Add a polished and professional look to the envelopes you are mailing out by adding a printed address label instead of writing it messily by hand. This size offers enough space for you to add your name, address, and phone number, as well as a small logo.
5) Sticker Size For Printing – 2" x 8"
If you're printing Typographical Stickers that feature bold, conspicuous text, 2" x 8" Sticker Sizes For Printing are the best choice. These are usually printed in a horizontal orientation and display motivational quotes, short poems, witty content, and more. These Standard Sticker Sizes are perfect for use on bicycle frames, laptops, shipping boxes, and other such places.
6) Envelope Stickers – 1.625" x 1.625"
Create amazing looking Die-Cut Stickers such as 1.625" x 1.625" Stickers Sizes that can be used as envelope seals, small size certification stamps, guarantee or warranty Stickers, brand logo, company initials, or monogram, and more. Die-cut Stickers provide an elegant way of showing your personal or professional design with unique Dimension Stickers.
7) Dimension Sticker Size – 1.5" x 2.5"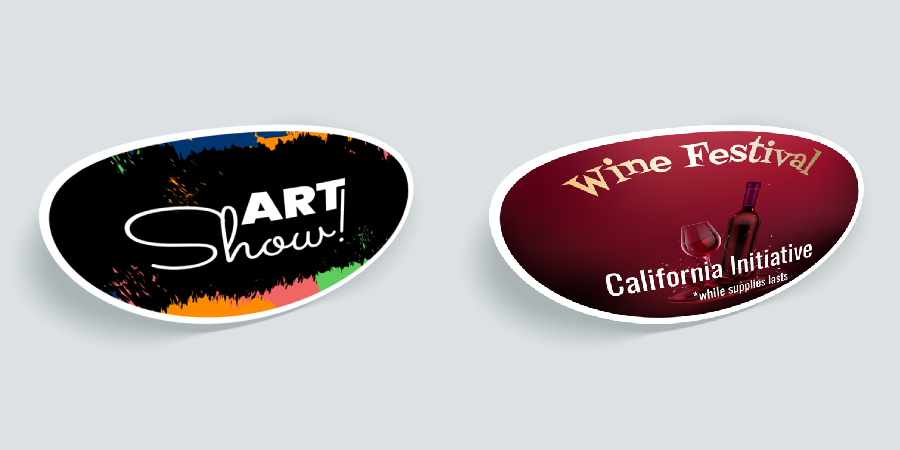 Print food packaging materials such as 1.5" x 2.5" Dimension Sticker sizes that are perfect for adding any kind of promotion or message on your food delivery box. Choose rectangle or Oval Stickers in this size to print delivery messages, warnings or cautions, food details on packaging boxes, cellophane bags, disposable coffee cups, and more.
8) Custom Sticker Size – 2.5" x 3.5"
Use 2.5" x 3.5" Custom Size Stickers for printing name tags for office events, conventions, fairs, and more so clients, colleagues, and business associates can easily learn your name. These custom name tags make introductions easy as they help break the ice while adding a bit of humor or personality! This size will provide you with enough space to write your name, plus a short phrase or statement.
9) Label Sticker Size – 3.5" x 4"
Used on bottles that contain beverages print 3.5" x 4" Common Sticker Sizes for wine, water, soda, or juice bottles. Whether you are selling these products in the market or want to make custom Stickers for personal use, they provide ample space to represent your text and artwork. Design your Stickers for weddings, birthdays, or corporate gifts that can be used on normal 750 ml bottles.
10) Packaging Sticker Size – 5" x 8"
A large size Sticker that can be used to display informative text such as warnings, instructions, and other important communications. For instance, they can be stuck on packaging boxes to show "fragile" or "this side up" warnings.

Print The Right Custom Sticker Size For Your Business
To make sure you are getting the best printing quality, choose Print Magic to get your Custom Sticker Printing done. We offer a variety of Sticker types for printing such as Vinyl Stickers, Bumper Stickers, Roll Stickers, Promotional And Event Stickers, Campaign And Political Stickers, Kids Sticker, and more in any Stickers Sizes and shapes that you want to represent your custom style. You will also get the option of several paper stock and coating options to enhance your Sticker design, as well as quick shipping and turnaround time! Need help with designing your Stickers? Get in touch with our expert designing team now.