Envelopes are a must-have for businesses of all kinds as well as professional individuals. They are most popularly used as a way of communication and pose as a formal encasing for your letter, invoice, certificate, picture, or any other kind of document you want to send. Used rampantly in the corporate world, Envelopes can be customized to the company's needs and printed with an array of designs, promotions, text, images, and artwork. There are some standard Envelopes sizes that are used in every industry as the norm.
There are mailing Envelope sizes such as #9 and #10 that are used on a regular basis for communication of different kinds while there are also some standard Envelope sizes like A2, A7, and A9 that can be used for certain other purposes. Each has its own standard size and purpose, and can be custom printed to your desired specifications!
How big is a standard Envelope?
There are several types of Envelopes available for printing that are used as per their intended purpose. It is important to capitalize on these products that deliver promotional and professional communication anywhere around the world. They can hold brochures, sales sheets, invitation cards, menus, and much more in a good looking and attractive packaging.
If you're wondering how big is a standard Envelope, then this Envelope size chart has all the details for different standard business Envelope sizes for you to understand the difference between each.
| | |
| --- | --- |
| Envelope Type | Envelope Size |
| 6″ x 9″ Envelopes | 6″ x 9″ |
| 9″ x 12″ Envelopes | 9″ x 12″ |
| A2 Envelopes | 4.375″ x 5.75″ |
| A6 Envelopes | 4.75″ x 6.5″ |
| A7 Envelopes | 5.25″ x 7.25″ |
| A9 Envelopes | 5.75″ x 8.75″ |
| #9 Envelopes | 3.875″ x 8.875″ |
| #10 Envelopes | 4.125″ x 9.5″ |
10 Envelopes – 4.125″ x 9.5″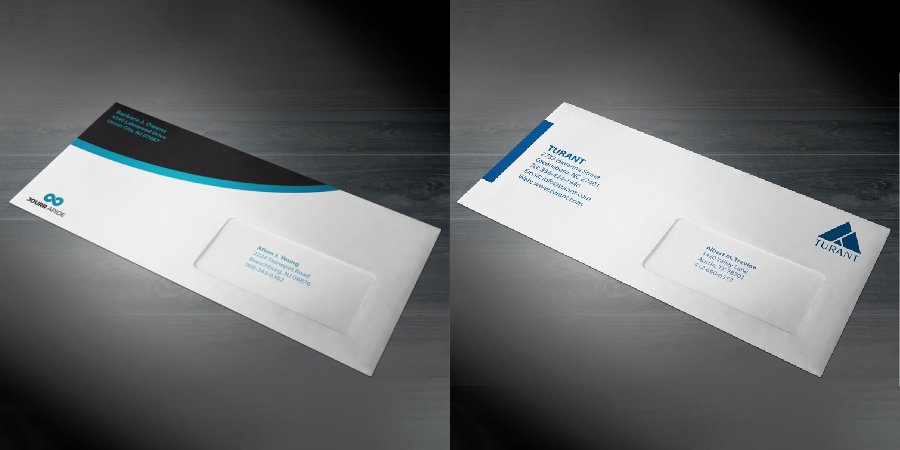 One of the most commonly used standard business Envelopes sizes, #10 Envelopes are sent and received by individuals and companies on a daily basis. They have a long and rectangular shape and are perfect for sending standard 8.5" x 11" papers that are folded three times. Use them for sending invoices, payment bills, membership forms, bank notices, company and personal letters, checks, and much more.
These Envelopes also come with the option of a window that shows a bit of the information inside the Envelope. This could be the recipient's name and address, which reduces the task of printing or writing the receiver's address individually on every piece of mail.
9 Envelopes – 3.875″ x 8.875″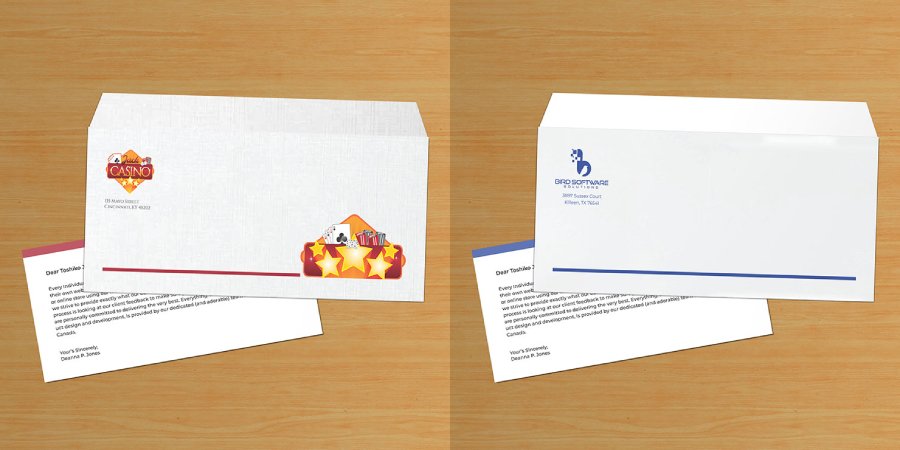 #9 Envelopes are popularly used as return Envelopes as they can perfectly fit inside a #10 Envelope and are also called Courtesy Reply Mail (CRM) or Business Reply Mail (BRM). They are most used by businesses like banks, insurance agencies, credit card companies, nonprofits, and more that require the receiver to send back some form of communication.
6 x 9 Envelopes – 6″ x 9″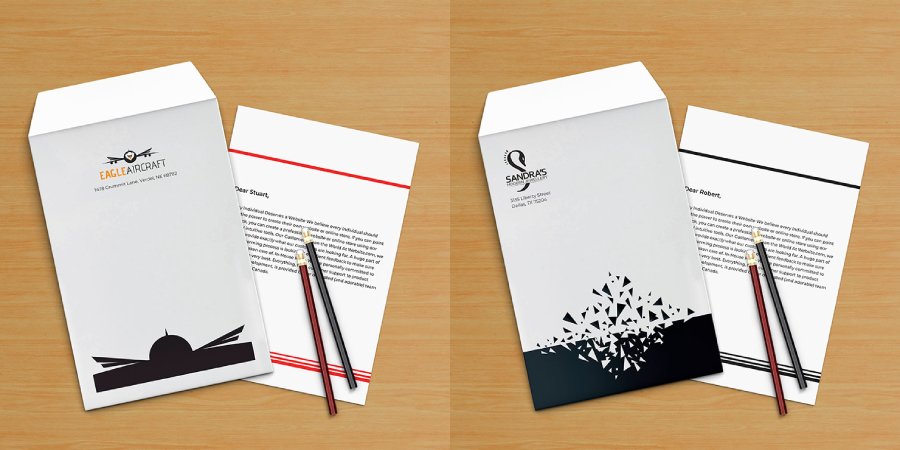 Best used for sending promotional materials like brochures, small magazines, catalogs, programs, and journals, 6 x 9 Envelopes make a perfect carrier for large-sized documents and booklets. They can fit mailings that are sized 5.75" x 8.75" as well as standard paper size of 8.5" x 11" that is folded in half.
These large mailing Envelopes size options can be created to open on the long side or short side. It's called Booklet style when the Envelope opens on the longer edge and Catalog style when it opens on the shorter side. The big size of the Envelope also allows you to conveniently send announcements, greeting, and invitation cards that are bigger than usual.
9 x 12 Envelopes – 9″ x 12″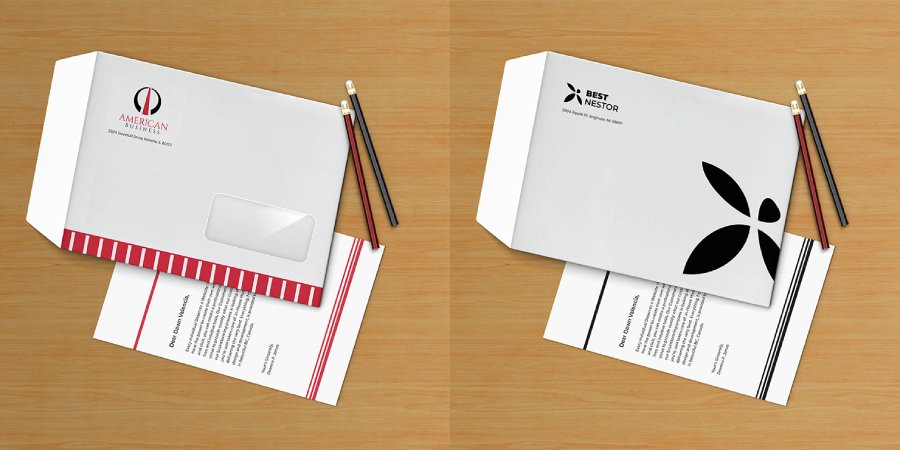 One of the largest mailing Envelopes sizes, the 9 x 12 Envelopes are perfect for sending big documents such as magazines, reports, catalogs, brochures, journals, large cards, and more. They can hold up to 60 sheets of paper and thus also make a useful piece of stationery for companies to send sales sheets and specs sheets to clients. You can put documents that are sized 8.5" x 11" inside this Envelope without folding them and can have the flap opening on the short or long edge.
A2 Envelopes – 4.375″ x 5.75″
Very commonly called a Note Card size Envelope, these A2 Envelopes are the smallest announcement standard business Envelope size available in the market. They are best used for sending small sized-invitation cards, greeting cards, thank you cards, and letters that have been quarter-folded. You can also use them to send RSVPs, remittances, promotional stubs, gift cards, and such.
A6 Envelopes – 4.75″ x 6.5"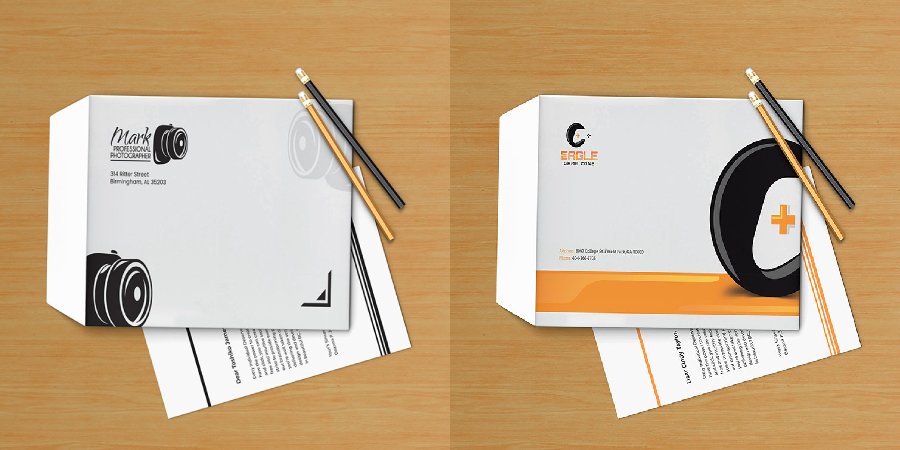 An A6 Envelope is popularly called the invitation Envelope as it is best used to send invites for different occasions. It's spacious enough to fit several 4" x 6" cards or pictures together and can be used for professional or personal reasons to send eye-catching mail. Use them to send invitations to friends and family as personal mail or use them for direct mail marketing campaigns and mass advertising campaigns for your business.
A7 Envelopes – 5.25″ x 7.25"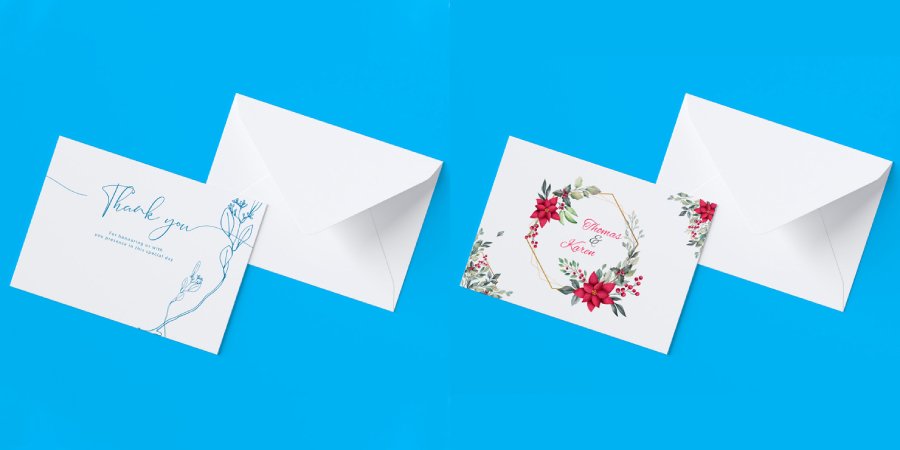 Another commonly used mailing Envelope size, A7 Envelopes are best for sending invitation cards and folded greeting cards. Apart from these, you can send 5″ x 7" pictures, announcements, or postcards as well. Use them to send to your friends, family, and business associates invite and greetings for holidays, weddings, anniversaries, graduation, and more!
A9 Envelopes – 5.75″ x 8.75″
A9 Envelopes are best to mail social correspondences like invites, postcards, greeting cards, and more. They can fit a half-folded standard paper for sending handwritten letters and personal notes as well. These multi-purpose Envelopes can fit any kind of communication format that is sized 5.5" x 8.5" or below with ease. This standard Envelope size is also suitable for corporate mailings to securely send confidential documents to clients and business associates.
Why should you send plain and dull Envelopes when you have the option of creating ones that have full-color, amazing quality printing on the front and back, and stand out from others in the mailbox. PrintMagic offers advanced printing processes, several customization options, and a number of different standard Envelope sizes to help you make an Envelope that gets picked first! We provide printing for all the above options in the Envelope size chart with quick shipping and cost-effective rates!