Need to order multiple products for your company's marketing strategy? PrintMagic offers several amazing print products perfect for incorporating into your brand promotions. Whether you are looking for Business Cards, Postcards, Brochures, Flyers, Booklets, Banners, Signs, or any other small or large format marketing materials, we offer several customizations to pick from.
A lot of companies are worried about the rising shipping costs and thus refrain from ordering online. But with PrintMagics's affordable printing services combined with discounts on shipping rates, it is more than worth it to order your print products online!
Group Shipping is offered on multiple sets of the same product that also have the same specifications. Bundle shipping these sets together can help you save big on ground shipping. Group Shipping is offered on all our products that have the representing icon on their page. To know if a product is eligible for Group Shipping, you will find an indication on the product customization page, like below.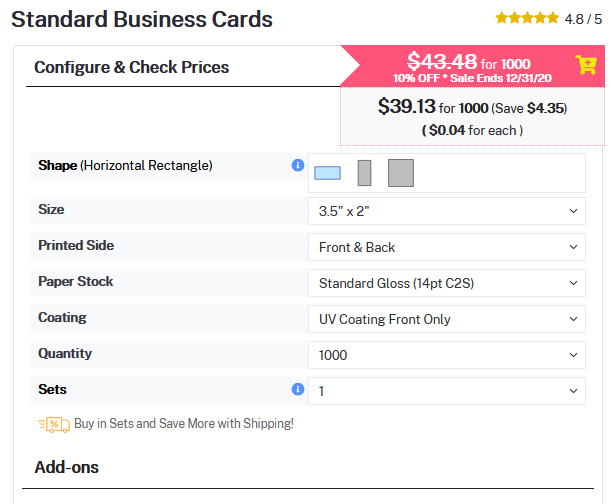 Group Shipping is available only for sets of products that have the same specifications and cannot be combined across different product categories. There are certain limitations that may apply to Group Discount Shipping, so please refer to the 'Shipping' section of our Terms and Conditions page to know more.
Why Choose Group Shipping?
Earlier, no matter how many sets you chose to print, you would have to pay full ground shipping, leading to increasing costs. With Group Discount Shipping, YOU WIN. PrintMagic has negotiated shipping rates with shipping carriers, so when you purchase multiple items of the same product, we group ship those to you and pass on the Group Shipping discounts! This additional discount on shipping is applied to our already negotiated low shipping rate depending on the package weight and box specifications. The biggest advantage you get is reduced costs on ground shipping as savings discounts are calculated and applied to shipping rates.
For instance, if you want to order Business Cards for five employees of your company, you can bundle the sets instead of creating separate orders and reduce the money spent on printing materials considerably. So, if you want to order 5 sets of 1000 Standard Business Cards in 3.5" x 2" size, with Standard Gloss Paper, and UV Coating on the front, you are eligible for Group Shipping discounts with reduced costs.


How Can You Place Your Group Shipping Order?
Placing a Group Shipping order is fairly simple! It is available and offered on all our products that have the representing icon on their page.
Select the product you want to get Group Shipping for and choose from the customization options available for size, shape, paper stock, coating, and more. Group Discount Shipping is automatically calculated and applied when you buy the product in Sets. All you have to do is pick the number of sets you want and the number of products per set, like below. Depending on the package weight and box specifications, the shipping discounts are calculated and applied on shipping rates, allowing you to get an automatic break up of the prices on the checkout page.

PrintMagic is a premier printing service provider that offers several benefits for online printing. Apart from discounts on shipping, contact us to know more about our expert Design Services, Holiday printing discounts, and Group Shipping offers.