Halloween is a very popular holiday among children as well as adults as it is the one night you can dress up, play pranks, and enjoy how you want! Research shows that the average American spends around $92 per person on buying Halloween related products and merchandise, showing that this is festivity consumers don't mind splurging on.
The same goes for businesses offering products and services that want to expand their target audience and sales. Make sure you create the perfect marketing opportunity for your brand and ensure you reach new target customers and prospects to boost sales. A big Halloween Print Essential is getting Custom Halloween Booklets printed for your business as a way to mail or distribute them in store. They are not just a great way of marketing your products and services, but also add value to customers.
Why choose Custom Booklet Printing for Halloween?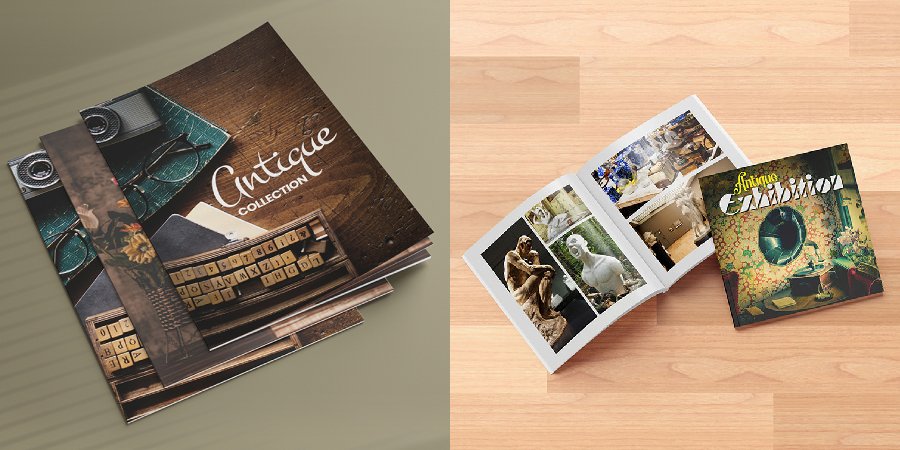 Booklet Printing is a very versatile marketing product that can be used by several industries to announce sales, discounts, new product launches, and more in an innovative and creative manner. Use these print products as the perfect way to promote your brand and create awareness about your holiday offers and advertisements. Custom Booklet Printing can be done as Saddle Stitched Booklets or Perfect Bound Booklets, which can have 8 pages to 92 pages as needed.
Booklets make a very useful, value-adding, and effective marketing tools for your customers.
They offer ample space to add text, images, comparison diagrams, statistics, and more as you can get multiple pages printed.
Their versatile nature allows Booklets to be used for various purposes by several industries such as Real Estate to show property listings, Automotive to display vehicle information, Retail for showcasing their product catalog, Religious to distribute sermons, and much more.
Booklets allow users to browse the valuable information in print at their convenience and leisure, also providing them the option to keep the details with them.
They can be distributed through multiple mediums – at the store, through the mail, as handouts, takeaways, and point-of-sale displays.
Printing a Custom Halloween Booklet can help you create an interactive and creative product that can be the go-to for customers every October! Create Booklets that are packed with tons of valuable information such as tips and new ideas, but don't forget to mention your products and services as well! The way to balance promotions and value-adding content is to tie in your product suggestions to the proper context so the reader can understand how the products you are selling can help them reach their target.
Here are some effective and impactful Halloween Booklet ideas to try.
Halloween Booklets for businesses – Showcase your best deals and offers for the Halloween season in a catalog and distribute these to customers so that they can look forward to purchasing from you.
Planning guide for Halloween events – Help the reader throw an amazing Halloween party or event by providing them with an all-inclusive guide!
Halloween recipe book – Print a cookbook for the spooky season that contains some specially curated recipes for Halloween. From savory to sweet dishes, add cool food decorating ideas to match the theme.
Halloween house decoration how-tos – Decorating your home for trick or treaters is a big Halloween tradition, so creating a Booklet guide to help the reader with new ideas and easy inspiration can help.
Trick or treat costume guide – Costumes are a big part of the Halloween season and people always need new ideas and inspiration as well as DIY guides for creating their own costumes.
Print Magic offers stellar Halloween Booklet Printing services for businesses that are the perfect way to boost sales. Get custom printing options as well as expert Design Services to create the most effective Booklets for you!